European operators of the De Havilland Canada (DHC) Dash 8-400 could soon be carrying up to 90 passengers in the twin-turboprop after the bloc's regulator approved the modification.
Launched in 2016 while the programme was still under Bombardier's ownership, the 90-seat layout entered service in 2018 with India's SpiceJet.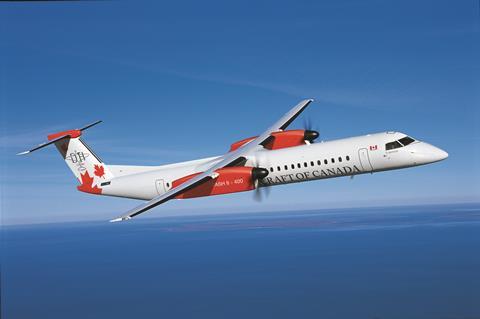 But DHC, which acquired the Dash 8-400 programme in 2019, says that "based on consultations with current and prospective customers" there are opportunities to deploy higher-capacity versions in Europe.
The European Union Aviation Safety Agency validated what DHC describes as "our extra-capacity solution of up to a 90-seat configuration" on 23 March.
"In general, the higher capacity of the Dash 8-400 creates opportunities for increased airline profitability while also reducing the aircraft's already low carbon footprint per passenger," says DHC.