Vietnam has restricted the number of seats on flights between Ho Chi Minh City and Hanoi — a major domestic route — amid the resurgence of coronavirus infections in the country.
The Civil Aviation Authority of Vietnam (CAAV) in an 8 July notice says that the country's carriers were only allowed a total of around 1,700 seats per day, per way, on the route.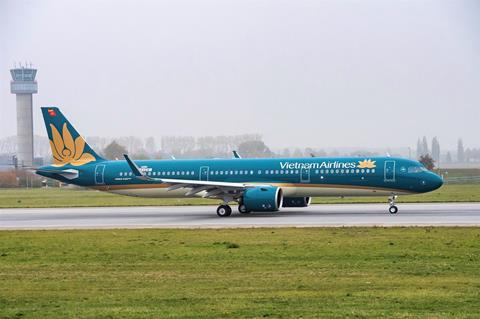 Flag carrier Vietnam Airlines will be allowed to sell a maximum of 700 seats daily, while Bamboo Airways, Pacific Airlines, as well as VietJet will be allocated between 200 and 400 seats for sale a day.
The move would mean significant capacity cuts for Vietnamese carriers on a traditionally popular domestic route.
Cirium schedules data shows that Vietnam Airlines offers around 25,000 seats one-way on the route for the week of 12 July, averaging out to over 3,500 seats a day. VietJet offers over 15,000 seats the same week, averaging to over 2,200 seats daily.
The CAAV has also imposed similar caps flights from Ho Chi Minh City to other smaller Vietnamese cities, such as Da Nang and Phu Quoc. For these flights, airlines are restricted to just one flight a day, with no more than 200 seats to be sold on the flight.
The restrictions do not apply to cargo flights, states the authority.
In a separate CAAV directive, domestic passengers travelling to and from Ho Chi Minh City must present a valid negative coronavirus test before departure.
Aircrew operating in and out of the southern Vietnamese city must either present a negative test result, or have at least one dose of the coronavirus vaccine.
Vietnam has also mandated stricter social distancing measures at all of its airports.
The move comes as Ho Chi Minh City battles a record increase in infections. On 11 July, Vietnam reported more than 1,950 new coronavirus cases, the seventh straight day of more than 1,000 cases, with many of the infections coming from Ho Chi Minh City.
Vietnam, which had kept infections to a low for most of the pandemic, has since tightened movement restrictions across its major cities, including capital Hanoi.