VietJet Aviation increased its net profit for the January-June half-year period, despite a spike in Covid-19 infections in Vietnam that began at the end of April and caused Q2 profit to plummet compared with the first three months of the year.
The Vietnamese low-cost carrier says it made a consolidated post-tax profit of D128 billion ($5.6 million), versus a D47 billion post-tax profit in the same half-year period in 2020, according to its 2 August filing to the Ho Chi Minh Stock Exchange.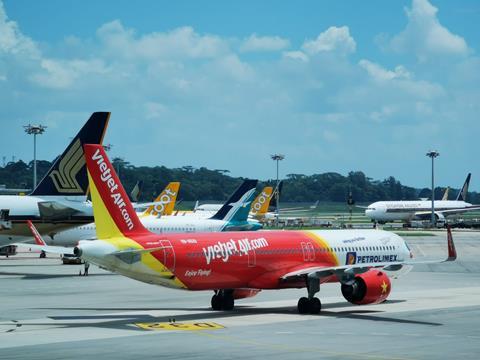 This was on lower consolidated revenues of D8.4 trillion, compared to D11 trillion in the year-ago period.
It flew more than 4.8 million passengers and operated 34,000 flights during the first six months of 2021. Cargo operations increased 40-45% year-on-year to 37,000t flown.
During the second quarter, a new wave of Covid-19 infections that started at the end of April and subsequent government restrictions on flights led to a reduction in air travel.
However, air transport revenue still increased 51% year-on-year to D3 trillion for the quarter, due to high travel demand in April before the new flight restrictions were introduced.
Overall consolidated revenue for the second quarter was D4.3 trillion, down from D5 trillion in the year-ago period, while consolidated post-tax profit was D5 billion, up from D1 trillion.