The Civil Aviation Authority of Vietnam (CAAV) has reiterated standing orders to the country's carriers to sharply curtail domestic flights amid a major coronavirus outbreak.
In a letter to Vietnam Airlines, VietJet Air, and Pacific Airlines, CAAV states that they must continue to comply with orders originally issued in late July, which basically stops the sale of air tickets.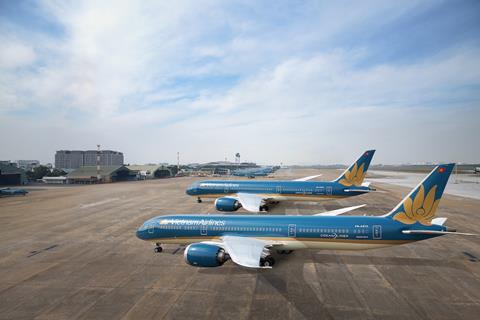 In addition to curtailing domestic routes, the order limits scheduled passenger flights between Hanoi and Ho Chi Minh City to just two daily, operated by Vietnam Airlines.
Exceptions are made for cargo flights, as well as flights that are undertaken for "disease prevention and public service." Other flights can be approved on a case by case basis.
On 31 August, flight tracking site Flightradar24 shows a complete absence of domestic flights in the Southeast Asian country.
The Ho Chi Minh City-Hanoi route was formerly among the world's busiest routes. Traffic flows to Vietnam's third biggest city, Da Nang, were also substantial. Vietnamese media reports that drones have been deployed in Da Nang to enforce a strict lockdown there.
Although Vietnam was extremely effective at dealing with Covid-19 in 2020, allowing its domestic air travel market to remain open, in 2021 it has succumbed to the more infectious Delta variant, resulting in most of the country being locked down.
Confirmed daily cases have risen to over 10,000 daily. According to Our World in Data, vaccination rates are extremely low, with just 2.4% of the country fully vaccinated against Covid-19, and with 17.2% of the country having had one dose of vaccine.