The Civil Aviation Authority of Vietnam (CAAV) has outlined a three-stage plan to restore domestic traffic, as Vietnam works towards reining in the coronavirus pandemic ravaging the country.
The plan, which has been submitted to Vietnam's transport ministry, will involve capacity limits, as well as other mandatory requirements for passengers and crew members.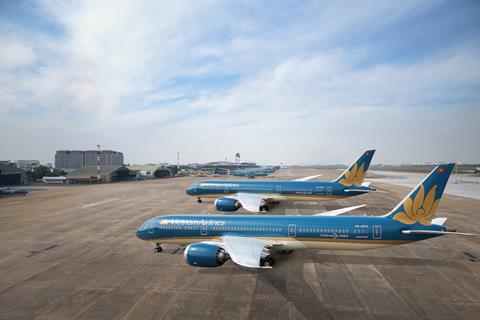 Underpinning the move to resume domestic flying is the need to "promote economic recovery", and follows similar comments made by Vietnamese prime minister Pham Minh Chinh who on 6 September said that his government was looking at "gradually reopening economic activities in safe areas", while keeping the pandemic under control.
Vietnam has imposed domestic travel restrictions through July and August, as the country experienced a record spike in fresh infections, caused by the more contagious Delta variant.
Under its latest plans to restore domestic traffic, the CAAV has outline three phases of reopening, with capacity limits benchmarked against April levels, before the latest wave.
Under the first phase, airlines can operate at up to 50% of their April capacity. This will be followed by a 70% capacity limit two weeks later.
In the third and final phase, airlines can operate at April capacity. This will only kick in once the country has gotten the pandemic largely under control, notes the CAAV.
It did not indicate when the first phase of reopening will kick in, except to say that it will start "two weeks" after its plan gets the government's green light.
The CAAV has also warned that airlines which flout approved plans will be subjected to a one-week operational suspension.
The authority has also mandated that all flight crew operating domestic flights are to have taken at least one dose of the coronavirus vaccine, and be tested negative for the virus up to 72 hours before flying.
Similarly, passengers intending to fly must also test negative up to 72 hours before their flight. However, unlike other countries in the region, Vietnam has not made vaccination a pre-requisite for passengers to fly. Among Southeast Asian nations, Vietnam has a significantly low vaccination rate — only 5.5% of the population is fully-vaccinated.