ATR is promising to divulge details of its roadmap for the future of its regional turboprop in the "next two to three months" but has stopped short of committing to any clean-sheet design.
Presenting a breakdown on 8 February of the joint-venture manufacturer's commercial performance in 2021, chief executive Stefano Bortoli said that no decision had been taken on the adoption of any future technology but the company is "doing our homework to prepare for the next phase".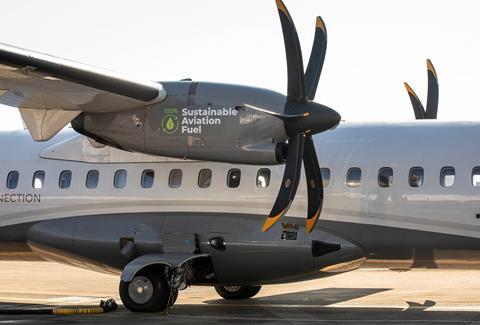 "We are studying different alternatives and together with our shareholders we will announce the next step when this will be reachable with a timeline that is solid enough to be disclosed to the public," he says. ATR is a joint venture between Airbus and Leonardo.
Bortoli says ATR should "definitely have something to communicate in the next two to three months".
However, he stresses that ATR operators are demanding the "affordability" and "economic sustainability" of any low-emission solutions in order to keep the price of a ticket "as it is today".
"We will continue to listen to our customers and if and when they ask for a brand new product we will answer that need," Bortoli adds.
In the near-term, ATR's decarbonisation focus is on the introduction of the Pratt & Whitney Canada PW127XT engine later this year — which will deliver a 3% fuel-burn saving – alongside the continuation of its efforts to certificate the turboprop to run on 100% sustainable aviation fuel (SAF).
ATR recently completed a series of flights with one of a 72-600's two engines powered by 100% SAF; Bortoli says the target is to achieve certification for full SAF use by 2025.
He sees no requirement for "significant changes" to the PW127 engines allow the ATR fleet to run on 100% SAF, although minor inspections will be needed.
ATR disclosed last year that it would co-operate with Swedish carrier Braathens Regional Airlines and fuel producer Neste to advance certification; Braathens will perform a demonstration flight later this year using 100% SAF.
In the meantime, advanced propulsion specialists Universal Hydrogen and ZeroAvia have both announced they are developing conversion kits to power ATR aircraft with fuel cells.
Bortoli says such projects confirm the "validity and viability" of the ATR platform and demonstrate that it has "a long-term future, otherwise no-one would invest in such a platform".