As geopolitical tensions in the Asia-Pacific continue to build, Leonardo sees an opportunity to upgrade the region's more than 500 Lockheed Martin F-16 fighters with its BriteCloud 218 decoy.
The European company already has a customer in the UK Ministry of Defence, which plans to buy the BriteCloud for use with the Royal Air Force's Eurofighter Typhoons. Pending successful foreign comparative testing, the kit may also be selected by the US Air National Guard.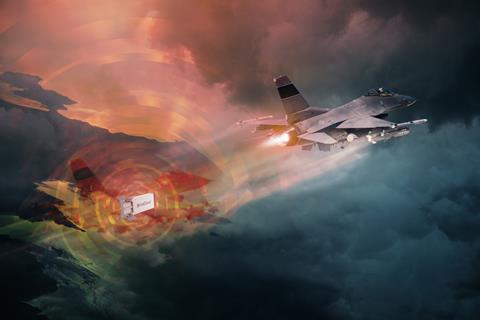 Leonardo says it is in discussions with a number of F-16 operators in the Asia-Pacific region about purchasing BriteCloud, although it declines to name the nations involved.
The BriteClould digital countermeasure is small enough to be deployed from a standard chaff and flare dispenser, minimising aircraft integration work, says Leonardo. The jammer is more effective than chaff or flares at luring away radar-guided surface- or air-launched missiles, says the manufacturer.
"BriteCloud is substantially more effective than traditional [radio frequency] countermeasures such as chaff decoys because its [digital radio frequency memory] technology allows BriteCloud to tailor its powerful electronic ghost signal to the specific threat radar, allowing it to defeat modern, sophisticated threats," says Wayne Smith, vice-president of sales for electronic warfare with Leonardo.
The decoy also has advantages over on-board jamming pods, he adds. "Because BriteCloud is expendable and is fired away from the host aircraft like a flare, it avoids the home-on-jam issue associated with on-board jamming pods, creating a large miss distance from the aircraft."