Airbus is continuing its push for hydrogen-powered aviation and has launched a study which aims to validate Singapore's potential as a "hydrogen hub".
The two-year study will involve the European airframer alongside Changi Aviation Group (CAG), the Civil Aviation Authority of Singapore (CAAS), and industrial gas company Linde.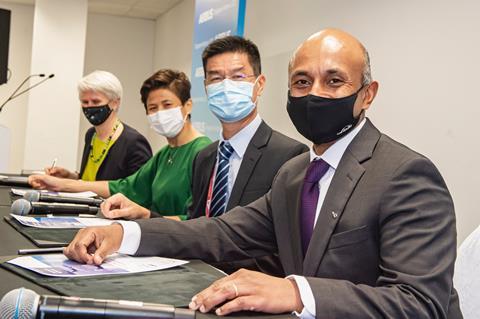 "The Asia-Pacific region will play a key role as we work towards making climate-neutral aviation a reality," says Sabine Klauke, chief technology officer at Airbus.
The move follows a similar agreement signed in South Korea a week earlier to look at the potential of hydrogen.
"By partnering with Changi airport and with Incheon airport [in South Korea], Airbus will leverage the operational and technical expertise of two of the world's leading hubs. The studies we will carry out together reflect the need for a cross-sectorial approach, including manufacturers, airlines, regulators, airports, energy providers and academia. We need bold and coordinated action to achieve our goals.
CAG adds that the study will look at the infrastructure necessary to support hydrogen-powered aircraft at Changi. Key topics will be hydrogen production, storage, and distribution, and the implications for ground services, operational equipment, and refuelling systems.
In addition, CAG will look at the potential for hydrogen fuel cells to support airport operations, in addition to operational standards for the safe use of the gas.
Klauke also touches on the topic of hydrogen's influence on aircraft design, particularly conceptual "blended wing" configurations. While she acknowledges that a blended wing planform provides ample space for hydrogen, she is doubtful such an aircraft can enter service by 2035, when Airbus believes the potential of hydrogen-powered commercial flight can be realised.
Klauke also observes the various alliances of companies, regulators, and other stakeholders coming together to support sustainable solutions for the industry. She feels such moves are important steps to move the sustainability agenda forward.