Airbus is aiming to further its exploration of hydrogen infrastructure at airports through a co-operation agreement with energy and engineering firm Linde.
The two sides will define and launch pilot projects at a number of airports from early next year, under a memorandum of understanding disclosed during the ILA air show in Berlin.
Airbus and Linde will also examine the potential of so-called 'power-to-liquid' fuels, sustainable fuel produced from synthetically-produced liquid hydrocarbons.
This involves generating hydrogen from renewable electricity, provision of renewable carbon dioxide, then synthesis to liquid hydrocarbons and refinement.
The German environment agency has studied this process for a number of years, and says power-to-liquid fuels have a relatively low carbon footprint.
"We are advancing well with hydrogen as an important technology pathway to achieve our ambition of bringing a zero-emission commercial aircraft to market by 2035," says Airbus chief technical officer Sabine Klauke.
She adds that building the necessary infrastructure is "just as crucial" to the effort.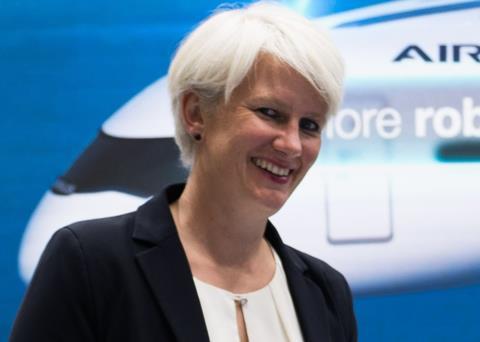 Klauke spoke during the ILA show, stating that decarbonisation was "our licence to operate in the future" and that it was "not just an option".
She described hydrogen as a "mature" technology, but that it needs to be applied to aviation, and partnering with the organisations who specialise in the sector, such as Linde, is essential.
"We need to look at the complete eco-system," she says.
But Klauke also says she is "sincerely optimistic" that the transformation is achievable. "There are many challenges ahead of us, but we are determined to make it happen," she says.
Airbus's agreement with Linde follows a co-operation pact reached earlier this year including collaboration on global supply chains for hydrogen – covering production to storage – and the integration of refuelling into airport ground-handling.
Linde vice-president for clean energy Philippe Peccard says the companies are "well-positioned" to collaborate with airports and governments in developing "viable concepts" for hydrogen airport hubs.