The sixth and final Comac C919 prototype has conducted its maiden sortie from Shanghai's Pudong International airport.
The 2h 5min sortie commenced 10:15am on 27 December during which 30 tests were conducted, according to the official China Daily quoting Comac.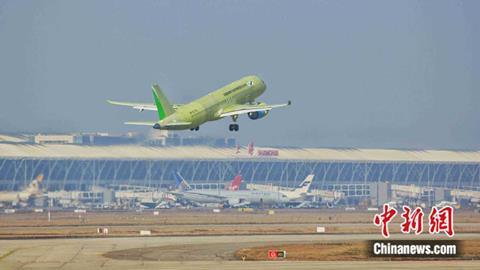 The aircraft, numbered 106, joins five other prototypes in the test campaign of the narrowbody type. Production has already commenced on customer aircraft.
The advent of aircraft 106's testing campaign comes just weeks after the 5 December department of aircraft 105 for Nanchang in Northeast China. Aircraft 105 had its first flight in late October.
Cirium fleets data shows that there are 305 firm orders for the C919. Comac has also secured more than 700 commitments for the CFM International Leap-1C-powered aircraft.
FlightGlobal understands that the C919 is likely to enter service in 2021 or 2022, a delay compared with the originally planned timeframe of 2020-2021.
The launch customer for the type will be Shanghai-based China Eastern Airlines.