Boeing's 737 Max is making a slow but steady comeback in China, with carriers returning more of the jets to service and Boeing thinking about when it might restart deliveries to Chinese customers.
The US company's chief financial officer Brian West says Chinese airlines have resumed flying nearly 30 of the jets – out of 97 that had been out of service amid the global grounding.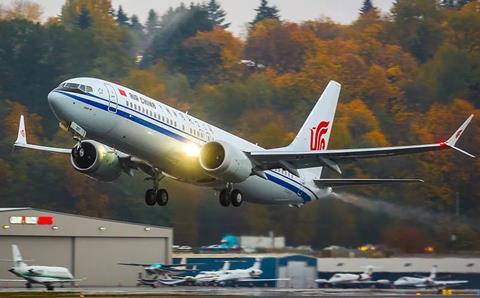 "Twenty eight are back flying again," West said on 22 March during a BofA Securities investor conference. "That's 20 more than… this time last month."
Amid broad US-China geopolitical tension, China had been slow in reintroducing the 737 Max.
China Southern Airlines in January became the first Chinese carrier to return the type to service – more than two years after the US Federal Aviation Administration lifted the Max grounding.
West says Boeing is now assisting Chinese airlines with the work of returning another roughly 70 still-grounded 737 Max to flight duty.
But when those jets are back in the skies, Boeing hopes Chinese carriers, with approval from China's aviation regulator, will again start receiving 737s direct from Boeing.
"As things play out – maybe traffic keeps growing, and customers do fleet planning, and the regulator's decide what they're going to do – you could see… a return-to-delivery discussion," West says.
Boeing has a lot on the line. It is depending on 737 Max deliveries to China to help clear its backlog of undelivered 737 Max and to support future production.
Through 2041, Boeing expects Chinese airlines will need some 8,500 new aircraft, including nearly 6,400 narrowbody jets, according to Boeing's market outlook. Those aircraft account for 21% of its expected total global demand.
"That's a lot for… two legacy airframers to handle," West says, referring to Boeing and Airbus. "It's bigger than just one can handle."