Boeing is sticking to its 2023 aircraft delivery goals despite hiccups early this year, including a weeks-long 787 delivery halt, a 767 quality issue and ongoing supply chain struggles.
That is according to Boeing chief financial officer Brian West, who on 22 March said Boeing is overcoming those challenges and still sees a path to meeting its targets.
"Our guidance of 400 to 450 737s for this year – we are still committed to it. We still have a line of sight to it," says West, speaking during a BofA Securities investor conference.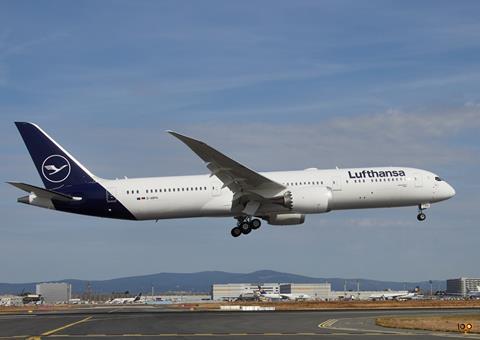 Boeing delivered 35 737s in January and 25 in February, according to its figures. West says 737 deliveries will likely tick up again in March. To hit its 400-450 goal, the company will need to deliver an average of 34-39 737s monthly between March and December.
West says Boeing's 737 production system continues recovering from broad, industrywide parts shortages that have frustrated its ability to hike production of the narrowbody jets. Airbus has struggled with similar challenges.
"We are getting better in certain areas," says West, adding that production system health differs "supplier by supplier".
"We've got to continue to work with our supply base to get stable and predictable," West says.
Boeing in November 2022 laid out 2023 production goals that included 400-450 737s and 70-80 787s. The company did not disclose targets for other types.
In February, Boeing confirmed it had temporarily stopped delivering 787s due to an "analysis error" involving forward-pressure bulkheads, later revealed to be supplied by Spirit AeroSystems.
Boeing resumed 787 deliveries on 15 March.
"That issue was identified, it was escalated quickly, it was reviewed with our regulator [and] ultimately resolved," West says on 22 March. "It is behind us, and we are moving forward."
Boeing delivered only one 787 (which had been certificated prior to the halt) during the roughly seven weeks between 26 January and 15 March, according to Cirium data.
It delivered just four of the jets in January and February. That means Boeing will need to deliver an average of about 6.5 787s monthly through year-end to meet its 70-80 target.
"Despite that pause, we still see a path to recover… and still to get to 70-80 [787] deliveries this year, and get to a five-per-month production rate as we exit the year," West says on 22 March.
Boeing also this year has been addressing what it calls a "quality issue" involving an unspecified number of new-build and in-service 767s, including 767-based KC-46 military refuelling jets.
"There is a supplier quality issue and it's on the centre fuel tank," West says. "We have the fix. We know how to fix this. Now, we have to go implement this fix both on production airplanes and some airplanes that are in the fleet."
Boeing has not been more specific, but French firm Daher reportedly supplies the centre fuel tanks.
"Deliveries will recover in the second quarter," West says of the 767. "There's major parts of the production system and supply chain that are performing pretty well. But it's not all performing well."