Browsers of Comac's Mandarin language website will gather that Chinese supreme leader Xi Jinping has much to offer the field of aircraft design and production. Page after page sing the praises of Xi Jinping Thought on Socialism with Chinese Characteristics for a New Era, a philosophy that puts Xi and the Chinese Communist Party (CCP) at the heart of all endeavours.
The airframer holds regular meetings to discuss Xi's musings and how they apply to aircraft programmes such as the C919. As one Comac article puts it, successful aircraft design hinges on the "three major tasks", the "two major processes" and – most important - understanding the role of the "party branch's fighting fortress".
In a nod to the relentless struggle that is an integral part of Marxist ideology, four employees of the Comac aircraft forging team recently received "Large Aircraft Struggler" awards for "gritting their teeth and never flinching" in the face of adversity.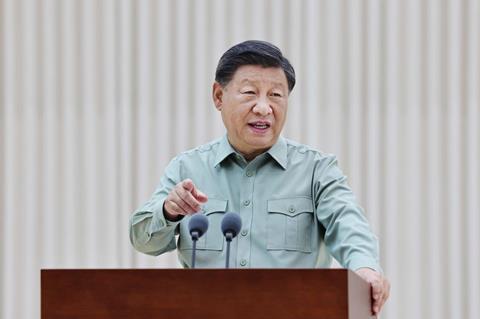 Yet despite the bracing nature of Xi's ideology, there is much to suggest that China's aerospace sector confronts an uncertain future, and that the world's second biggest economy, once seen as a source of boundless growth, presents an increasingly bleak arena for international aerospace companies.
The country's first domestic airliner, the ARJ21, continues to be produced only in small numbers. Cirium fleets data indicates that following service entry in 2016, only 107 have entered service, an annual average production rate of just eight airframes. Perhaps its signal achievement is cracking the international market with TransNusa, an obscure Indonesian airline backed by Chinese money.
The more ambitious C919 narrowbody entered service in May after years of delays, but only two examples are operating with launch carrier China Eastern Airlines. Like the ARJ21, the aircraft is all but entirely reliant on Western aerospace technology, including its CFM International LEAP-1C engines.
A local engine, the CJ-1000A, has been in development, but it's far from clear as to when it will enter service – and how competitive it will be against foreign powerplants.
In the 2010s AVIC made a big push for its new turboprop, the MA700, but this programme stalled in 2020 following to Ottawa's decision to block the export of Pratt & Whitney Canada PW150C engines. The Canadian government was retaliating against Beijing's arrest of two Canadian citizens on dubious espionage charges.
The CR929 widebody programme is also in limbo. Recently it emerged that Russia's United Aircraft Corporation has been downgraded to a supplier from a full partner. This is largely due to Russia's invasion of Ukraine and the resulting international sanctions.
In the late 2010s international aerospace suppliers eagerly anticipated workshare on the CR929 – now apparently rebadged C929 or simply "Comac Widebody" – but it is hard to contemplate western aerospace firms working alongside the Russians on a new Chinese airliner.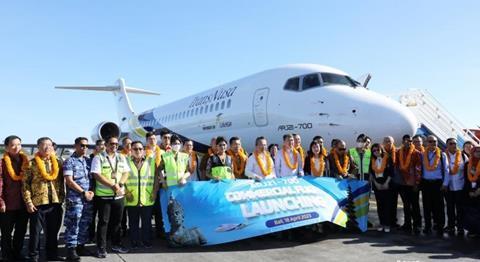 Sentiment towards China has shifted markedly from the 2000s and 2010s, when international aerospace firms were happy to surrender intellectual property and know-how in joint ventures with Chinese players such as AVIC. At the time China was riding an unprecedented economic boom. Its hunger for aircraft was insatiable. Politics were of little concern: as China grew richer, the thinking went, the nation would liberalise politically.
Under Xi, China has taken a radical political turn. While becoming increasingly authoritarian at home, the CCP has behaved aggressively abroad in its dealings with neighbours and the wider world. Beijing has embarked on an upnrecedented arms buildup and Pentagon officials talk openly of the miltary threat this presents. Moreover, the country's economy is faltering amid a massive debt crisis, record youth unemployment, and a bleak long-term demographic outlook.
The gloom around China will, inevitably, have an impact on the country's domestic aerospace sector and foreign views about it.
FlightGlobal understands that international suppliers continue to support Chinese programmes on a day-to-day basis but are vexed by glacial production rates. There are virtually no discussions about forming new Chinese joint ventures. At AVIC and Comac, executives are concerned that they too will eventually be subject to technology restrictions similar to those imposed on China's semiconductor industry.
Richard Aboulafia, managing director at AeroDynamic Advisory, points out how vulnerable Chinese programmes are to western sanctions.
"For the US and its Western allies, prohibiting technology exports to effectively kill Chinese aircraft would take the stroke of a pen," he says.
"The legal framework already exists, and, in the case of the MA700, it has already been done. But this move would gravely damage trade and diplomatic relations with China and is therefore likely viewed as a nuclear option. Things would have to get very bad for the West to make this move – say, a blockade against Taiwan, or a full-blown military assistance program from China to Russia, with the Ukraine war still underway."
Far short of these cathartic events, western businesses have tended to become more guarded about China. Speaking to reporters on a high-speed train during a recent visit to China, US Commerce Secretary Gina Raimondo stated that China has become "uninvestible" for American companies.
"Increasingly I hear from American business that China is uninvestible because it's become too risky," said Raimondo.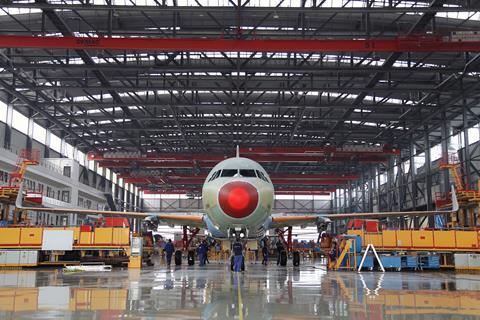 Challenges for US companies include "exorbitant fines without any explanation, revisions to the counterespionage law, which are unclear and sending shockwaves through the U.S. community; raids on businesses – a whole new level of challenge and we need that to be addressed."
Boeing has learned firsthand of the challenges China represents, having not received a major Chinese aircraft order since 2017. The Civil Aviation Authority of China was also extremely slow to let Chinese carriers resume 737 Max operations following the fixes made after two fatal crashes in 2018 and 2019. Inexplicably, Beijing has yet to allow deliveries of well over 100 new 737 Max jets on order with Chinese carriers, although reports periodically suggest this will change.
Boeing's supply chain also reaches into China, including AVIC's production of the vertical fin for the 737. Industry sources tell FlightGlobal that this arrangement could wind down and perhaps end, and that Boeing is taking a cooler view toward training activities at the AVIC-Boeing Manufacturing Innovation Center in Xian.
The Innovation Center was announced at the Paris air show in June 2011, during the optimistic era that preceded Xi Jinping. Its goal was to strengthen AVIC's ability to produce parts for Boeing aircraft. Another goal was improving the overall competitiveness and capabilities of AVIC. In Boeing's China fact sheet, it says that it has trained 100,000 aviation professionals in the country.
Asked about its plans for Chinese supply chains and the training initiative, Boeing offered this reply: "We continue to focus on driving stability in our production system, including closely partnering with our suppliers to address challenges, meet our customer commitments and prepare for future rate increases. Our objective is unchanged: a healthy and stable production system."
Boeing adds that 90% of 737 Max aircraft in China are back in service, and that the country remains a key market. It reiterated its commitment to the 737 Completion and Delivery Centre in Zhoushan, a joint venture with Comac.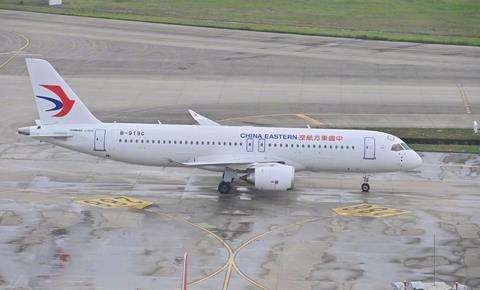 "Operations at the centre have continued in support of our customers and in readiness for the resumption of 737 Max deliveries," says Boeing.
European rival Airbus, for its part, remains optimistic about China. In April, company chief executive Guillaume Faury underlined the importance of the China airliner market, which he feels will continue to grow strongly. Airbus also plans a second A320 assembly line in Tianjin, contributing to its goal of producing 75 A320neos globally per month in 2026. Airbus's Wide-body Completion and Delivery Centre in Tianjin has delivered 16 A330s and 19 A350s.
Faury's rosy perspective no doubt reflected China's 'Big Three' carriers – Air China, China Eastern Airlines, and China Southern Airlines – ordering 292 A320neo family jets in July 2022. At the time, Boeing decried the "geopolitical differences" that hold back US aircraft sales.
In response to queries from FlightGlobal, Airbus struck an upbeat tone about China, stating that it aims to expand its supply chain in the country.
"Around 200 suppliers in China support the production of Airbus commercial aircraft," says the airframer.
"The total value of industrial cooperation between Airbus and the Chinese aviation industry has already reached about US$1 billion in 2020.The growth of the supply chain in China shall be associated with competitiveness and sustainability. Airbus is implementing the 'Local for Local' strategy with the supply chain in China based on capability and competitiveness, continuously expanding the coverage of the local supply chain and promoting the high quality development of the Chinese aviation industry."
More recently, Airbus partnered with the city of Chengdu and Tarmac Aerosave in the Airbus Lifecycle Services Center, which will provide parking, storage, maintenance, dismantling, as well as the acquisition of aircraft and component distribution. Construction of the centre is expected by the end of this month, with operations to start in 2024.
Despite their extensive China networks, Aboulafia feels that the big aerospace manufacturers can still walk away from China on the supply chain side: "The primes who've placed work in China know the risks. They have backup plans in the form of second sources, in house capabilities, and of course large inventories. China never really grew its export business, preferring to emphasize a Soviet-era model of national jetliner self-sufficiency, which has failed on several levels."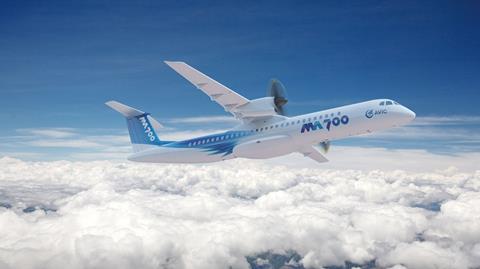 As political considerations have replaced economic ones in Xi's China, working in the various joint ventures has changed as well. Joint venture companies are required to have CCP representatives who need to be consulted on decisions. In some cases, such representatives have aerospace experience, but in many they do not.
The degree of CCP influence in joint ventures appears to vary among companies. Joint ventures with state-owned aerospace players take the political aspect of things far more seriously, including regular study meetings about CCP ideology. On occasion, opaque CCP prerogatives trump previously agreed business decisions.
Says one observer of JV business practices: "One gets the feeling that real decisions are made somewhere else."
Foreign aerospace executives are also wary about working in the country given new national security legislation, including the sweeping new espionage law referenced by Raimondo.
Where China postings were once seen as an important resume entry for ambitious aerospace executives, they are now viewed dubiously. Moreover, executives at international aerospace firms understand that their companies may be subject to retaliation should relations between China and the West continue to deteriorate.
The daunting aspects of working in China could well hurt the country's international aerospace ambitions. Global companies well understand the benefits of diverse leadership teams. In addition to helping open new markets, diverse teams also bring new perspectives in areas such as processes and technology. The leadership teams at Chinese companies such as AVIC and Comac are notable for their homogeneity.
One observer of international aerospace firms in China says that they need to start seriously considering risk scenarios such as Chinese military adventurism around Taiwan or in the South China Sea. Should the west impose sanctions on Beijing, retaliation against international business interests, including those in aerospace, is all but inevitable.
Rarely in business history has a country that seemed to present such boundless opportunity changed so quickly. Not long ago China appeared to present the international aerospace community with unbounded potential. Today, it is far more notable as a source of unbounded risk.

Greg Waldron is the Asia Managing Editor of FlightGlobal, responsible for the team's airline, aerospace, and defence coverage across the region. He has worked at the company since 2009. In the airline space, Waldron has conducted dozens of interviews with airline leaders in the Asia-Pacific. He also covers areas such as MRO and safety. On the defence beat, Waldron has written extensively about the rise of Chinese airpower, as well as broader airpower developments around the region, such as indigenous fighter programmes, and regional acquisitions of foreign equipment. In addition, Waldron writes about commercial helicopters in the region and business aviation. Waldron worked has a freelance journalist with his work appearing in several business publications.
View full Profile