All Nippon Airways' (ANA) parent company expects to swing back to profitability for the current business year, on the back of air travel recovery helped by an improving global economy and vaccine rollouts.
In its earnings release, ANA Holdings says the ongoing global inoculation drive will help contain the spread of the coronavirus pandemic.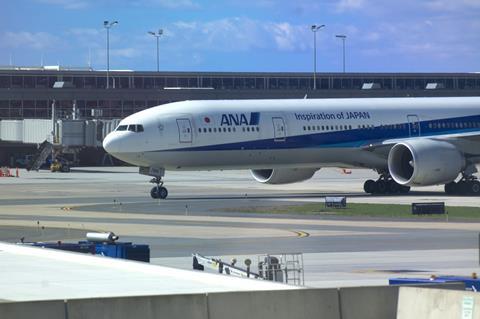 "Based on data from countries where vaccination has progressed, it appears that the spread of Covid-19 can be contained, which will lead to greater passenger confidence to fly and a recovery in air transport demand," the group states.
ANA Holdings' forecast — of a modest operating profit of Y28 billion ($257 million) for the year ending 31 March 2022 — comes as the group reported a record full-year operating loss for the year just ended. ANA Holdings confirmed itmade a loss of Y465 billion for the year ending 31 March 2021, as revenues fell sharply. The group had on 26 April narrowed its full-year loss estimate to Y465 billion from early projections of Y505 billion.
The full-year loss compares with the Y61 billion operating profit it turned for the 2019 financial year. ANA Holdings swung to a net loss of Y405 billion for the pandemic hit year from a Y28 billion net profit in fiscal 2019.
Full-year revenue fell 63% to Y729 billion, while the group cut expenses 38% year on year to Y1.2 trillion.
Worst-hit was international passenger revenue, which plummeted nearly 93% year on year to Y45 billion. Mainline carrier ANA carried just 427,000 international passengers, representing a 96% drop.
Domestic passenger service fared marginally better. Revenues fell 70% in this sector to Y203 billion.
International cargo revenue was the sole bright spot, rising 56% to Y161 billion.
"We will continue to aggressively capture demand for international cargo, as supply constraints are expected to continue due to strong cargo demand that has occurred as a result of the economic recovery," states ANA Holdings.
ANA has significantly cut ts fleet and adjusted its network focus, in an attempt to better manage costs. In January, it announced it would be retiring large aircraft operating domestic flights "ahead of schedule" — and cut their utilisation by half. It also disclosed that it would double down on adjusting its domestic network, in the hopes of maximising revenue.
The group will retire 32 aircraft in the coming financial year, the bulk of them widebodies, including 10 Boeing 777-300s. It will take 20 aircraft in the year, including its first Airbus A321LR, which it has two on order.