The parent company of Japanese carrier All Nippon Airways (ANA) has cut its full-year operating loss forecast, following a reduction of variable and fixed costs.
ANA Holdings expects an operating loss of Y465 billion ($4.3 billion) for the year ended 31 March, narrowing an earlier estimated loss of Y505 billion.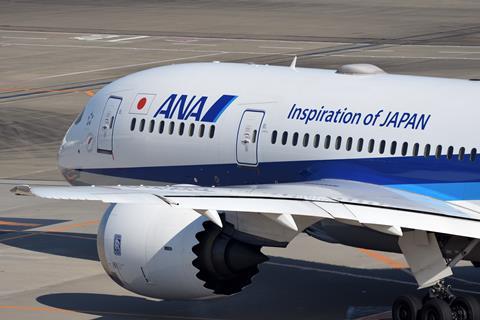 The company, which is due to release its full-year results by end-April, also cut its full-year revenue forecast marginally, from Y740 billion to Y725 billion, following a resurgence in the coronavirus that has hurt its passenger revenue.
Still, it notes that it has also managed to cut variable costs — in the form of managing the scale of its operations — as well as fixed costs — through reducing its fleet. Earlier this year, ANA stated that it was retiring its larger domestic aircraft "ahead of schedule", and cut their utilisation by half, in an attempt to keep costs low.
"In addition, as a result of careful consideration of the recoverability of deferred tax assets based on the future outlook, the amount of corporate tax adjustments associated with the recording of deferred tax assets will increase approximately Y40 billion, which increases profit," the company adds.
The group's latest forecast compares to a Y61 billion operating profit for the year ended 31 March, 2020. Revenue for that financial year stood at Y1.97 trillion.