Asiana Airlines improved its quarterly profits, amid an upswing in passenger travel following the easing of domestic and international travel restrictions.
For the quarter to 30 September, the South Korean carrier reported an operating profit of W229 billion ($171 million), up 43% year on year. It is also Asiana's sixth consecutive quarter of profitability, the airline notes.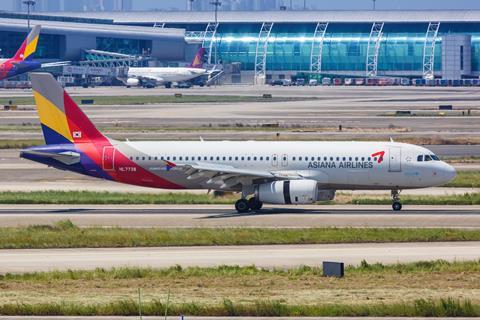 Quarterly revenue rose about 47% to W1.5 trillion, led mainly by a "brisk" four-fold increase in passenger travel revenue.
In a Korean language statement, Asiana says the sharp uptick in passenger revenue is also the result of its "quick response to changes in the external environment", including the country's easing of pandemic curbs.
The airline has since returned its fleet of temporary freighters - comprising Airbus A330s and A350s - to passenger operations to meet the increase in demand. Its A380s have also been returned to service.
By region, Asiana reports the sharpest increase in takings from European flights, with revenue increasing about fourteen times year on year.
On the other hand, the Star Alliance carrier says cargo demand has softened, with revenue decreasing about 10% year on year. Asiana attributes this to the slowdown in the global economy, as well as the decrease in maritime freight rates.
The carrier continued to post a net loss, though it cut some red ink in its latest earnings. It reported a net loss of W172 billion, down from last year's W210 billion net loss. Asiana says it continued to make a net loss as a result of foreign currency losses.