Belarusian flag-carrier Belavia is having to scrap planned services to Israel, claiming that Israeli authorities have reversed a decision to allow the airline entry to Tel Aviv along a revised route.
Belavia says it had received permission to operate from Minsk to Tel Aviv in mid-May and drawn up a schedule which included a technical stop at Baku in Azerbaijan.
The first flight was due to take place on 2 June.
But Belavia chief Igor Cherginets says the Israeli authorities have made a "sudden decision" to cancel the agreement.
While Belarusian and Russian air transport has been subject to various sanctions and restrictive measures imposed over the Ukrainian conflict, Israel has continued to allow a number of Russian operators to serve Tel Aviv, and Israeli flag-carrier El Al still operates to Moscow.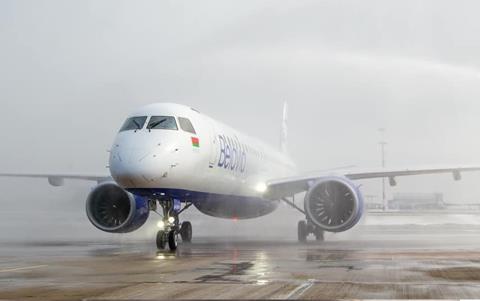 Cherginets says the decision against Belavia was "unilateral" and indicates that it stems from a refusal by Israeli aviation authorities to service the carrier's fleet at Tel Aviv's Ben Gurion airport.
He says the airline had been selling tickets for the service but will instead have to cancel all the planned flights to the end of the summer season in late October.
Belavia says it has been operating between Minsk and Tel Aviv for over 25 years, and that the route is popular with leisure passengers.