Belarusian flag-carrier Belavia is looking for alternative fleet arrangements as political issues put additional pressure on the airline's operations, already strained by the impact of the pandemic.
Belavia is among 11 entities against which restrictive sanctions have been imposed by the European Council, which has accused the Belarusian government of attempting to "instrumentalise migrants for political purposes", by facilitating illegal crossings at the European Union border.
The airline has been included in the sanctions list "in view of the gravity of the situation" in Belarus, says the 2 December implementing regulation.
It states that Belarusian president Alexander Lukashenko promised "all possible support" to Belavia after the airline was previously prohibited from overflying EU airspace and accessing EU airports.
"Belavia's management also told its employees not to protest against…election irregularities and mass detentions in Belarus," it adds.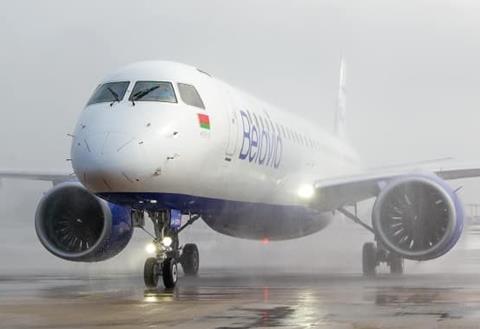 The regulation says the carrier has been involved in flying migrants from the Middle East – notably Lebanon, the United Arab Emirates and Turkey – to the Belarusian capital Minsk, opening new routes and increasing capacity on others, while local tour operators have helped Belavia "keep a low profile" by selling the airline's tickets to migrants.
Belavia says it has been "forced" to reduce its fleet as a result of the introduction of new restrictions. It had been operating some 30 aircraft, but says it currently consists of 15.
This number is "quite enough" for all the flights – both scheduled and charter – planned for the winter season, it states.
Belavia says it is aiming to replenish its fleet for the summer 2022 season by acquiring aircraft and concluding lease agreements with non-EU companies.
The airline primarily operates Boeing 737s and Embraer regional jets. It owns several aircraft but a significant number are leased from AerCap and Nordic Aviation Capital.
Belavia says it has had to work in "difficult conditions" for six months, putting stress on nearly 2,000 employees, as flight bans added to the travel restrictions it already faced as a result of the pandemic.
"The introduction of new restrictions leads to more anxiety among people and questions relating to the further work of Belavia," the airline says.
But it insists that the sanctions "will not affect" its ability to operate services already included in the schedule, and that passengers can "safely plan" winter holidays. "There is no risk of getting stuck in a foreign country," it adds.
Syrian carrier Cham Wings Airlines, which operates charter flights to Belarus, increased its capacity from Damascus to Minsk after summer this year and opened new Minsk offices in order to transport migrants to Belarus for illegal EU transit, the European Council says.
As a result, Cham Wings has been listed alongside Belavia as one of the entities subject to sanctions.