KLM chief operating officer Rene de Groot is to step down from his role to take up the same position at British Airways.
De Groot first joined KLM in 1990 and has served as chief operating office since November 2014. His second term in the role was originally due to end next year, but he is now stepping down from mid-July.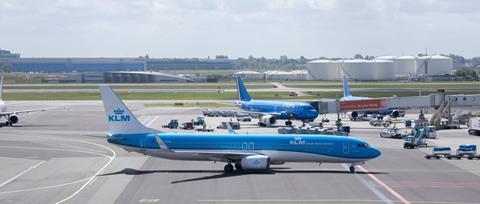 "After 32 fantastic years at KLM, I have decided to spread my wings and continue my career at British Airways as chief operating officer," de Groot says.
"I realise that my departure comes at a turbulent time for KLM, but I leave the airline in the knowledge that the road to recovery has begun and that the organisation will be able to do so despite the continuing challenges."
Both KLM and BA have been among carriers forced to cancel flights as they struggle to deal with operational challenges at airports during the post-Covid ramp-up, the UK carrier recently making further flight cancellations before an amnesty on slot rights expired.
BA says: "We're pleased to welcome Rene de Groot to our senior management committee team, who will be joining us as our chief operating offficer.
"As we navigate an extremely challenging period for our industry, we are completely focused on three priorities: our customers, supporting the biggest recruitment drive in our history and increasing our operational resilience to deliver the best possible experience for our customers."
De Groot will join BA in October. Earlier this year BA restructured its operations unit into separate technical and operations functions, with incumbent chief operating officer Jason Mahoney becoming chief technical officer.
KLM meanwhile says its supervisory board has initiated the procedure to find a successor and hopes to be able to fill the vacancy "at short notice".
The former head of Dutch rail firm NS, Marjan Rintel, became KLM's new chief executive on 1 July, replacing long-serving Pieter Elbers, who is taking up the chief executive role at Indian budget operator IndiGo Airlines.
Story updated to add comment from British Airways