Flyr intends to operate its first services at the start of June using Boeing 737 aircraft, as the start-up seeks to become a new low-cost carrier for the Norwegian market.
"We can build a lean organisation from the ground up," said chief executive Tonje Wikstrom Frislid during a 27 January press event to outline the company's plans. "We will have the advantage of starting without the heavy burden of an oversize, complex, inefficient organisation or tech structure."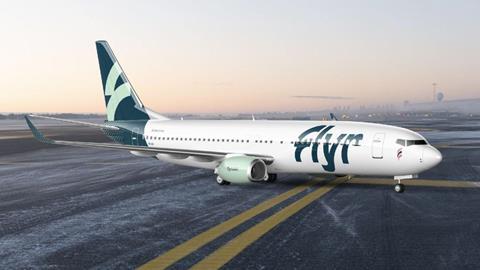 Flyr intends to ramp up its operations from two aircraft in June to five in July and six to eight in the autumn, enabling it to operate from Oslo to seven destinations within Norway plus Copenhagen, Nice, Barcelona, Malaga and Alicante. Further routes across Scandinavia and Europe will follow.
The start-up has secured the necessary airport slots to begin services, and ticket sales are set to begin in mid- or late April, depending on the progress of the pandemic.
Flyr's management envisages a 30-strong fleet of leased aircraft that is right-sized to its home market, meaning the carrier "is not dependent on expanding into less profitable markets in the Norwegian region", says Wikstrom Frislid, who is a former vice-president for crew management at Norwegian.
Currently backed by industry veteran Erik Braathen, Flyr is seeking private-equity financing to the tune of NKr600 million ($70 million).
"Work on raising capital is ongoing, and the company will be fully financed by private equity," says Wikstrom Frislid. "We started the funding process with full speed this week, and the signals we have received from participants and the market are very positive."
One advantage of commencing operations in the current climate is the availability of aircraft, although management declined to say which lessors it was working with.
The carrier aims to employ 10 pilots and 20 crew per aircraft, with a total ratio of 36 employees per aircraft, in line with industry peer Ryanair. It has seen "enormous interest" in its new positions for pilots and crew, given the wider industry's current problems.
Flyr will be launching into a highly competitive market with well-established carriers SAS and Wideroe holding significant market share. Meanwhile, troubled Norwegian has outlined its ambitions to refocus on the domestic and Scandinavian market, while low-cost giant Wizz Air has also recently launched domestic routes in the country.
A streamlined business model and flat management structure will, Flyr argues, enable to the start-up to meet this competition by allowing it to operate without the complexity of other carriers.
"This is a really new era for us," says Wikstrom Frislid, "We are built with a sustainable model that means we can be profitable with a small-scale, demand-driven organisation."
A key feature is that its schedule will be based around the productivity of pilots and cabin crew, instead of aircraft utilisation. "The size of the operation will increase in line with business growth and with a clear objective to always maximise productive hours for pilots and cabin crew, we will not be dependent on aircraft utilisation," she says.
The airline plans to operate digitally both for its internal processes and for all its communications with passengers. "We have no legacy except our experience. No old airline systems that are not truly digital," Wikstrom Frislid adds. This presents "totally new possibilities to what we had before", she asserts.