Norwegian start-up Flyr intends to establish an employment ratio comparable to low-cost airlines within Europe, aiming for a figure of 36 employees per aircraft within five years.
Flyr claims this will bring it into line with the level of Ryanair and below that of EasyJet and Wizz Air.
The company describes the ratio as a "critical" performance indicator. It says the average figure of 36 would include around 10 pilots and 19 cabin crew.
It points out that the planned extent of domestic operations necessitates a local crew base – and with it Norwegian salaries.
"The Norwegian salary level makes it challenging to be competitive on cost per employee," the company states.
Flyr has undertaken a round of funding, raising gross proceeds of NKr600 million ($71 million) through a private placement and listing of shares on the Euronext Growth Oslo stock exchange.
Four investors were allocated shares for NKr165 million: Nordea Investment Management, Tycoon Industrier, Sissener, and Apollo Asset.
Flyr says it plans to use the proceeds to finance ramp-up of the airline's operations, with initial services commencing in the first half of this year.
Its strategic plan includes expanding the fleet from eight aircraft in the first year to 28 in the fifth, when it expects to be carrying 9.3 million passengers and flying to 35 destinations.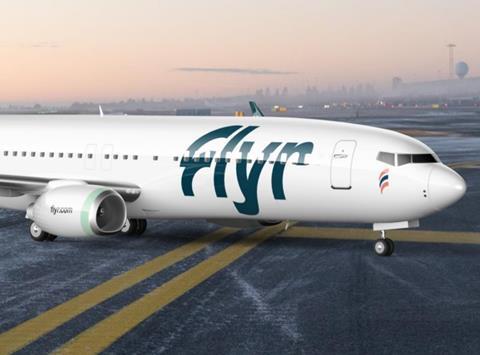 The network from Oslo will initially cover major Norwegian cities and extend to Mediterranean destinations, such as Nice and Barcelona, before broadening to European capitals and large cities, with a number of destinations being served from Bergen as well.
It states that the air transport crisis generated by the pandemic presents a "unique window of opportunity" to pick up modern aircraft, with low utilisation, at attractive lease rates as other carriers scale down. "Modern equipment is now obtainable that under normal circumstances would not be," it adds.
Flyr has outlined a particularly strong growth rate over the initial three years and is looking to break even at EBITDAR level in year two.
The company, which will have a Boeing 737 fleet, is looking to operate at least 850 block hours per crew per year.
Flyr says it plans to "optimise" its crewing, with a "hard maximum" of two crews per aircraft per day. It says this avoids costly flight delays from crew changes because the crew will "follow the aircraft".
Typically one crew might operate a series of short sectors in the morning while a second crew will take over at the base to operate six in the afternoon. The morning crew might operate longer flights once the network expands, handing over to an afternoon crew which will operate either another long flight or a series of short ones.
The break in the middle of the day will allow a "catch-up" from potential delays in the morning and restore punctuality for the afternoon, argues Flyr.
Flyr says its strategy will centre on a high level of digital and automated processes, and data-driven decision-making, customising passengers' journeys.