Ukraine International Airlines is preparing next year's budget for board approval after claiming that its cost-saving measures have returned the carrier to substantial profitability after the first nine months of 2021.
Chief executive Yevhenii Dykhne took over the carrier in September 2019, a year in which it made a net profit of Hr1.65 billion ($59 million) compared with the previous year's loss of Hr2.7 billion.
But after the onset of the pandemic the company's performance suffered heavily, and its full-year net loss for 2020 amounted to more than Hr4.5 billion.
Dykhne says, however, that the company has continued a transformation process initiated after he took over.
It scrapped unprofitable routes which, he says, had generated total losses of $216 million in the previous five years.
Ukraine International has subsequently adopted a "hybrid" business model, raising its share of charter traffic and retaining a fleet of up to 28 aircraft – mainly Boeing 737s and Embraer regional jets – to adapt to the demand. It has cut long-haul routes and its long-haul fleet, including a Boeing 777-200ER and 767-300ERs, has been in storage.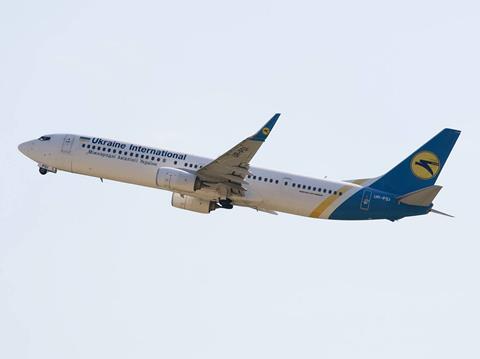 But it has preserved a two-wave operation at its main base, Kiev Borispol, in order to encourage transit traffic.
At the nine-month point of 2021 the company turned in a net profit of nearly Hr1.1 billion. It attributes this mainly to seasonal traffic in the third quarter, the strongest period of the year, as well as restructuring of the airline's debts and the improvement in exchange rates between Ukrainian currency and the US dollar.
The company says that, pre-crisis, it had been able to achieve "competitive" unit costs, and it has put forward an "optimistic" budget for 2022 to its supervisory board. Dykhne says the carrier will detail its plans once the budget is approved.