Budget carrier Wizz Air is expecting to increase daily aircraft utilisation to 10h as it ramps up operations over the summer.
Chief executive Jozsef Varadi says the rise in utilisation means the airline is "getting closer" to its pre-crisis figure of 12h and more.
The airline is maintaining that it will touch a key recovery landmark by operating around 90-100% of its 2019 capacity level for July-August, claiming it will be the first major airline in Europe to do so.
Speaking as the airline unveiled first-quarter results for the three months to 30 June, Varadi said the company "remains cautious" over forecasts for the winter season given "unpredictable" decision-making from governments.
But he adds: "We are absolutely confident in our much-improved competitive positions in the short, mid and long term."
He says the airline is continuing to expand its fleet – taking six Airbus A321neos in the quarter and returning two A320s – while benefiting from improved commercial arrangements with airports, and "not being trapped in debt burden".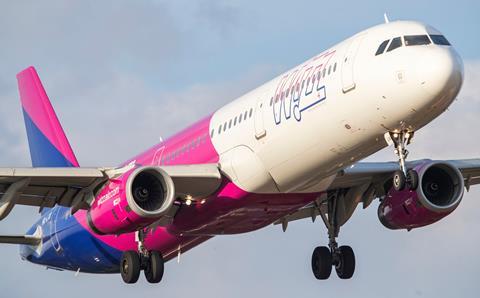 Varadi acknowledges that the first quarter remained "challenging", with the carrier operating only a third of its available capacity.
But it achieved positive cash-flow during the quarter and there were "encouraging recovery patterns" in passenger travel during the period, he says.
Wizz Air's first-quarter revenues more than doubled to nearly €200 million ($236 million). But its operating loss stayed largely static at €109 million while its underlying net loss doubled to €119 million.
"We have now entered a busy part of the summer, ramping up our operations to meet increased demand while maintaining operational flexibility to deal with evolving travel restrictions," says Varadi.