Lockheed Martin delivered 123 F-35s in 2020, with the coronavirus pandemic reducing output of the stealthy type.
The 123 deliveries comprised 74 examples delivered to the US military, 31 to international partner nations, and 18 to Foreign Military Sales customers. The 123rd aircraft was an F-35A delivered from the Final Assembly and Checkout facility in Cameri, Italy.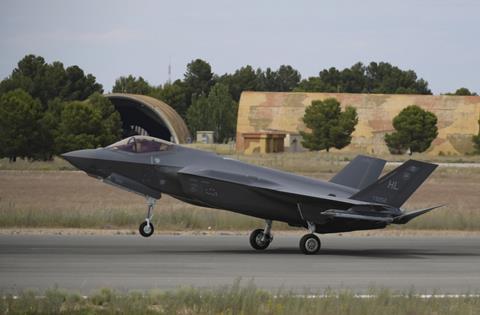 Earlier in December, Lockheed had said that it was likely to only hit 121 deliveries in the year.
2020's deliveries, however, fell short of the 134 examples transferred in 2019. Lockheed notes that owing to supplier delays related to disruption wrought by Covid-19, it had to revise its original delivery goal for the year downwards from the 141 originally planned, aiming to deliver 117-123 aircraft.
"Lockheed Martin took proactive measures to mitigate Covid-19 supplier impacts and position the programme for the fastest possible recovery by adjusting employee work schedules, maintaining specialised employee skillsets, and providing accelerated payments to small and vulnerable suppliers," says the company.
2020 also saw the initial fielding of a new sustainment system, the Operational Data Integrated Network (ODIN), replacing the previous Autonomic Logistics Information System.
The company says that ODIN will be fully operational in 2020, and that mission capable rates for the F-35 are now greater than 70% – higher for deployed units.
"The F-35 also proved its value in Joint All-Domain Operations with multiple exercises that highlighted the aircraft's ability to gather, interpret and share information with various platforms," adds Lockheed.