The F-35 Joint Program Office has awarded Lockheed Martin, and its suppliers BAE Systems and Northrop Grumman, a $1.28 billion "undefinitised contract action" to support operations and sustainment of the global F-35 fleet through 30 June 2021.
The deal will pay for sustainment of the worldwide F-35 fleet while negotiations continue for a long-term contract, Lockheed said on 6 January. The company is in talks with the F-35 Joint Program Office for a performance-based logistics (PBL) contract that it says would help reduce the operating costs of the stealth fighter to $25,000 per hour by fiscal year 2025. In FY2018, it cost $44,000 per hour to fly the F-35A, the conventional take-off and landing variant.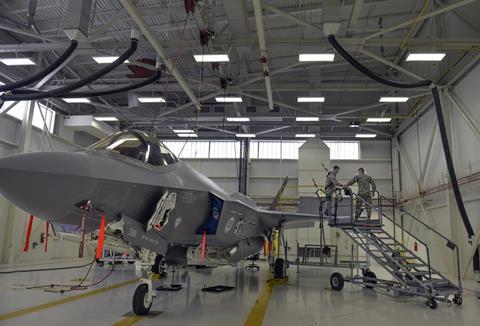 The short-term contract "funds industry sustainment experts supporting operations worldwide, individual bases, depot maintenance, pilot and maintainer training, and sustainment engineering across the globe," says Lockheed. "It also covers fleet-wide data analytics and supply chain management for part repair and replenishment to enhance overall supply availability."
In June, the programme office launched a market research effort ahead of a plan to grant a three-year PBL contract for FY2024 to FY2026. Lockheed originally proposed the idea of a PBL contract to reduce operating costs and the F-35 Joint Program Office has been examining the idea and negotiating with the manufacturer.
The programmes of record for the US armed services, as well as international partners and Foreign Military Sales customers, amounts to more than 3,000 aircraft. So far, Lockheed has delivered about 610 examples of the F-35 to nine nations.
As military budgets are expected to tighten, shrunken by competing demands on government budgets, including repaying debt accumulated during the coronavirus crisis, there is pressure on Lockheed to reduce the operating cost of the F-35. If the company isn't able to significantly shrink the fighter's lifetime cost, some air forces may buy fewer aircraft.