Lockheed Martin has granted a contract to Northrop Grumman to better integrate the F-35 stealth fighter's communications, navigation and identification system and its electronic warfare system.
It is unclear what particular capabilities will be gained, but the upgrade is aimed at "heightening pilots' situational awareness and helping them evade, engage and defeat modern threats", says Deborah Norton, vice-president of F-35 solutions at BAE Systems, the company that makes the F-35's electronic warfare system.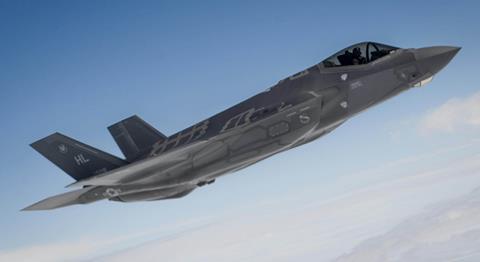 Northrop says the integration will provide "a new capability for gathering data to feed that existing process while minimising retrofit costs to existing airplanes". The new functionality is planned to be incorporated into jets coming off the production line starting in 2025, as part of production Lot 17.
Northrop declined to comment about retrofitting the more than 610 F-35s that have already been delivered. The company says decisions to perform retrofits, as well as the timing and locations of those possible upgrades, would be made by the F-35 Joint Program Office and prime contractor Lockheed Martin.
Under the contract, Northrop will deepen integration between its ASQ-242 integrated communications, navigation and identification (ICNI) system and BAE's ASQ-239 electronic warfare/countermeasures system. The value of the contract was not disclosed.
Northrop's ICNI system includes friend-or-foe identification technology, various voice and data communications such as the Multifunction Advanced Data Link, among other capabilities.
BAE's ASQ-239 electronic warfare system provides radar warning, targeting support and self-protection to detect and jam threats, such as from radar-guided missiles.
Update: Article updated with Northrop Grumman's response about retrofitting new electronic warfare capabilities.