Lockheed Martin managed to reduce the total number of identified problems with its F-35 Lightning II stealth fighter by two in 2020 – though 871 deficiencies remain.
That's according to the Director of Operational Test and Evaluation's (DOT&E's) 2020 annual report to the US Congress, released on 13 January. The DOT&E is the Department of Defense's top weapons tester.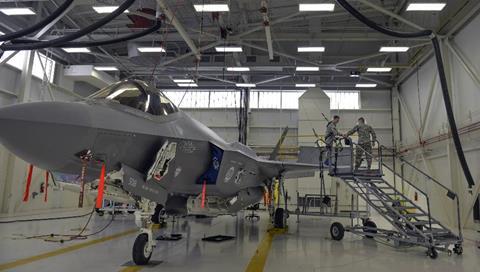 It appears that Lockheed solved more than two deficiencies in 2020; however, it also discovered additional problems, which meant the total number of open issues only fell slightly. The total number of deficiencies solved and discovered in 2020 was not disclosed in the DOT&E report.
"Approximately 100 new deficiency reports were written in 2020 and about as many were resolved and adjudicated," Lockheed says.
The F-35's problems included 10 category 1 deficiencies, three fewer than in 2019. Such problems "may cause death or severe injury; may cause loss or major damage to a weapon system; critically restricts the combat readiness capabilities of the using organisation; or results in a production line stoppage," according to the US Air Force's definition.
The DOT&E did not disclose a list of specific deficiencies. But Lockheed says many of these are categorised as "low priority" or are with the F-35 Joint Program Office (JPO) for resolution.
"There are currently no CAT 1A (risk to life or limb) and 10 open CAT 1B (mission impacts) deficiency reports," says the company. "Nine of these have closure resolution plans, with seven already delivered to the government awaiting action. The other is currently being reviewed by the [Joint Program Office]".
The company claims that "deficiency reports are not always contractual deficiencies".
"In fact, many deficiency reports document opportunities for improvement from pilots and maintainers for consideration above and beyond contractual obligations," says Lockheed. "These are called enhancements and are documented as deficiency reports, because there is no other program or process in place to record this feedback from the test sites."
The DOT&E report notes that issues also continue to emerge with the F-35 modernisation effort called Continuous Capability Development and Delivery (C2D2). It is modelled on a commercial software and hardware development process called agile development. That strategy tries to introduce system updates on a continuous basis, instead of the more traditional "waterfall" approach which dumps many software and hardware changes at once, every several years.
Lockheed was bullish that agile development could solve the F-35's problems, but growing evidence over the last year indicates it is falling far short of expectations.
"The current development process used by the F-35 JPO and Lockheed Martin, that is supposed to provide new capabilities and updates in six-month increments, is not working. It is causing significant delays to planned schedules and results in poor software quality containing deficiencies," says the DOT&E report. "The current C2D2 process has not been able to keep pace with the scheduled additions of new increments of capability."
In fact, the process appears to be making the F-35's problems worse.
"Software changes, intended to introduce new capabilities or fix deficiencies, often introduced stability problems and/or adversely affected other functionality," says the DOT&E. "Due to these inefficiencies, along with a large amount of planned new capabilities, DOT&E considers the programme's current Revision 15 master schedule to be high risk."
There are also concerns that the Operational Data Integrated Network (ODIN), the replacement for the F-35's troubled Autonomic Logistics Information System (ALIS), is falling behind. ALIS is a system that manages prognostics, maintenance, supply chain, flight operations and training for the F-35, but is so cumbersome and error-ridden that Lockheed is scrapping it and replacing it with the new cloud-based ODIN.
"Although the programme continues data, software and hardware development for ODIN, an overarching test strategy that includes government and contractor laboratory facilities has yet to be provided," says the DOT&E report. "The schedules for ODIN initial operational capability and final operational capability remain high risk."
ODIN was expected to reach full operational capability in December 2022.
Availability for the F-35 fleet showed "modest improvement" in 2019 and early 2020, says the DOT&E report. However, "the average fleet-wide monthly availability rate for only the US aircraft, for the 12 months ending in September 2020, is below the target value of 65%."
Lockheed has often pointed to higher availability rates for F-35s that are deployed, but the Pentagon's weapons testing office says those gains are fleeting.
"Individual deployed units met or exceeded the 80% mission capable and 70% fully mission capable rate goals intermittently, but were not able to meet these goals on a sustained basis," the DOT&E report says.