The UK Ministry of Defence (MoD) has awarded MBDA a £550 million ($750 million), seven-year demonstration and manufacturing contract for its Spear 3 air-to-surface missile, which will arm its Lockheed Martin F-35Bs.
Described by the European guided weapons developer as a "network-enabled miniature cruise missile", the design has a launch weight of less than 90kg (200lb).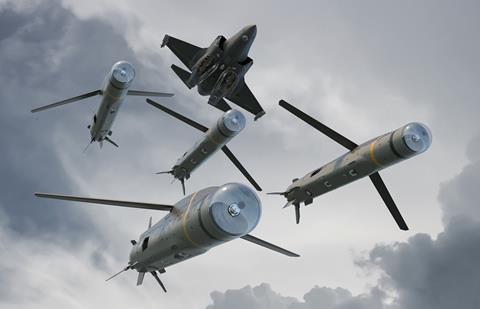 Powered by a turbojet engine, the folding-wing-equipped missile will operate at high-subsonic speed, with an effective range greater than 75nm (140km), including against moving targets.
The MoD says Spear 3 will become the "primary air-to-ground weapon" for its F-35 Lightnings, and The MoD says the new weapon's ability "will provide immense lethal capability to the [Royal Navy's] Queen Elizabeth-class carrier strike group".
The short take-off and vertical landing F-35B will be able to carry eight Spear 3s within its internal weapons bays.
MBDA says the weapon "will defeat challenging targets such as mobile long-range air defence systems at over-the-horizon ranges in all weathers and in highly contested environments".
"The initial demonstration phase will assess the weapon system against the UK military's requirement through testing, simulation and trials," the MoD says. This will include performing guided firings from a Eurofighter Typhoon starting in mid-2022. Production activities will commence the following year.
MBDA received a £400 million development phase award for the Spear weapon system in 2016, and was in 2019 contracted to integrate the type onto the F-35 for the UK.
The company says its production award will support a peak of 570 jobs, including 190 new roles at its Bristol, Bolton and Stevenage sites, plus another 200 across its supply chain, which includes Collins Aerospace and L3Harris.
"Stand-off, network-enabled and swarming weapons are a key part of MBDA's vision," says chief executive Eric Beranger. "Spear is leading the way with these technologies and is the most technically advanced weapon of its type."
In addition to performing precision strike duties, the Spear design is also already being eyed for further development as an electronic attack asset. MBDA and Leonardo unveiled plans for an electronic warfare variant – which would provide stand-in jamming during the suppression of enemy air defences – at the DSEI exhibition in London in September 2019.