The US Marine Corps (USMC) has committed a detachment of Lockheed Martin F-35Bs to the UK Royal Navy's HMS Queen Elizabeth aircraft carrier for its first overseas deployment this year.
Former acting secretary of defence Christopher Miller and UK secretary of state for defence Ben Wallace co-signed the Joint Declaration for the Carrier Strike Group 2021 deployment on 19 January. Miller stepped down on 20 January after recently inaugurated President Joe Biden replaced him with acting secretary of defence David Norquist.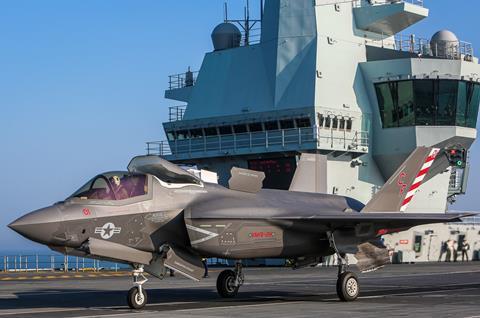 The agreement commits an undisclosed number of F-35B short take-off and vertical landing aircraft, US Navy (USN) personnel and equipment and the USS The Sullivans, an Arleigh Burke-class Aegis guided missile destroyer, to the UK-US combined carrier strike group. Other ships are to be committed to the carrier strike group at a later time. The Royal Netherlands Navy previously had said it would also contribute warships.
"This deployment underscores the strength of our bilateral ties and demonstrates US-UK interoperability, both of which are key tenets of the US National Defense Strategy," the Department of Defense said on 19 January. "The leaders look forward to seeing the culmination of nearly a decade of US-UK carrier cooperation when Carrier Strike Group 2021 sets sail from Portsmouth, UK later this year."
The Royal Navy and Royal Air Force also operate the F-35B. The USMC deployed 10 examples aboard HMS Queen Elizabeth last September as part of training exercises to prepare for joint force operations.
The UK government has yet to order its full 138-example programme of record for the F-35B, with only 48 aircraft on order. That means it is short of aircraft to fill HMS Queen Elizabeth and its other new carrier HMS Prince of Wales. Joint deployments with USMC F-35Bs are intended to help backfill the missing aircraft.
Joint carrier deployments are also a growing part of NATO operations, intended to add flexibility and additional airpower as needed. In 2014, USN Boeing F/A-18E Super Hornets operated off the deck of the French navy aircraft carrier Charles de Gaulle and the latter's Dassault Rafales operated from the USN carrier USS Harry S Truman.
Correction: The article was corrected on 16 February to note the USMC deployed 10 F-35Bs, not 15 examples, in September 2020