Lockheed Martin has been awarded a $102 million contract in support of a modernisation programme for Egypt's Boeing AH-64 Apache attack helicopters.
Outlined by the company in early January, the deal will provide replacement targeting sensors for 25 aircraft being remanufactured from the AH-64D to E-model configuration for Cairo.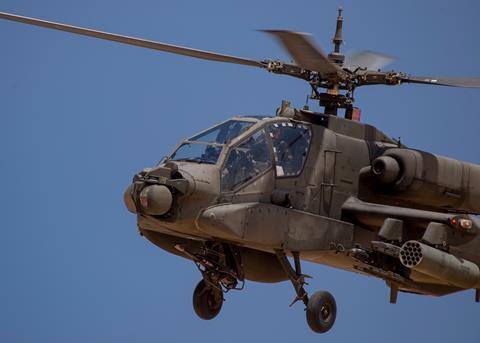 Under its new contract, Lockheed will supply Gen III target acquisition designation sight/pilot night vision sensor and Gen III day sensor assembly equipment. This will enable "designation and ranging capabilities to fully accommodate current weapons and those planned for the future", it says.
"This contract enables us to respond rapidly to Egypt's emerging defence needs, including requirements for new sensor systems and upgrades," says Tom Eldredge, director of Lockheed Martin Missiles and Fire Control's rotary-wing sensors programme.
Boeing is prime contractor for the Egyptian Apache upgrade, performing the work at its Mesa facilities in Arizona. Lockheed says its current contract has an estimated completion date of July 2024.
The US Defense Security Cooperation Agency in May 2020 detailed a potentially $2.3 billion Foreign Military Sales programme upgrade for Egypt's Apache fleet, with the activity to involve up to 43 aircraft.
Cirium fleets data shows that the Egyptian air force's current inventory includes 46 D-model Apaches, aged between seven and 27 years.