Lockheed Martin has unveiled its bid for the US Air Force's (USAF's) KC-Y in-flight refuelling tanker programme: the LMXT.
The tanker will have 123t (271,000lb) of fuel capacity – 12t more than the Airbus A330 Multi Role Tanker Transport (MRTT) on which the LMXT based, Lockheed said on 17 September. It does not specify how it intends for the LMXT to carry the additional fuel.
Lockheed's proposal calls for it to be lead contractor, with Airbus as subcontractor.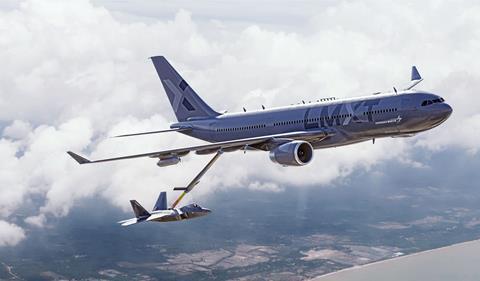 The proposed LMXT's fuel capacity trumps by 27t that of its chief competition, the Boeing KC-46A Pegasus tanker. The LMXT has an edge in fuel capacity because it is a derivative of the A330-200, a commercial airliner with a greater maximum take-off weight. The KC-46A is based on the Boeing 767-2C, a freighter version of the 767-200ER.
The USAF is seeking to buy 160 "Bridge" tankers as part of its KC-Y programme to replace its ageing fleet of Boeing KC-135s starting in 2029. The aircraft are intended to fill a gap in the service's in-flight refuelling needs before a stealth tanker is developed and procured as part of the Advanced Air Refueling Tanker programme.
This is not the first time a version of the MRTT has been submitted for a USAF tanker acquisition competition.
A Northrop Grumman-Airbus team won a bid for the KC-X tanker programme in 2008. However, after Boeing won an appeal with the US Government Accountability Office and the USAF rewrote requirements for the KC-X programme, Northrop withdrew its bid. Airbus later submitted a solo bid, but in 2011 Boeing's KC-46A was announced the winner.
The KC-46A programme of record calls for 179 aircraft, with deliveries to end in 2029. However, the programme has been plagued with cost-overruns, quality issues and delays – problems that lead some observers to speculate that time is right for an Airbus KC-Y bid.
Perhaps aiming to overcome perceived US government bias against a European aircraft, Lockheed says the LMXT would be "built in America by Americans for Americans". It does not disclose where the tanker might be manufactured, but previously proposed building the A330 MRTT in Mobile, Alabama, where Airbus builds A319s, A320s and A321s.
Lockheed notes that the MRTT has been ordered by 13 countries, including US allies and partners Australia, France, Saudi Arabia, Singapore, South Korea, the United Arab Emirates, the UK, and by a consortium of NATO nations. Airbus says it has accumulated 61 orders for the MRTT, and recently delivered its 50th example.
The MRTT is already certificated to refuel multiple US military types, including the Boeing B-1B, C-17, E-3, E-7, F-15 and P-8A, Fairchild Republic A-10, and Lockheed F-16, F-22 and F-35A. The aircraft has logged more than 250,000h of flight refuelling, says Airbus.
The MRTT already comes with a fully automatic boom and air-to-air refuelling system – a feature Boeing is working to develop for the KC-46A. And, Lockheed says the LMXT will come with an open-system architecture that could be useful for the US Department of Defense's Joint All-Domain Command and Control system.


Garrett Reim is a military aviation reporter based in Los Angeles. He reports on military aircraft manufacturers and operators in North and South America. Send him your confidential tips, press releases and story ideas via garrett.reim@flightglobal.com. Follow him on Twitter via @garrettreim.