Moving assembly of the Airbus A330-200 to the USA if the nation's air force selects Lockheed Martin's LMXT tanker derivative would help to streamline production activities in Toulouse, as business for the legacy widebody remains at a low level.
Lockheed on 31 January announced that its LMXT bid for the US Air Force's (USAF's) expected 140-160-aircraft KC-Y requirement will involve transferring assembly of the -200 model to Airbus's Mobile facility in Alabama. Military adaptations will be incorporated at Lockheed's Marietta site in Georgia.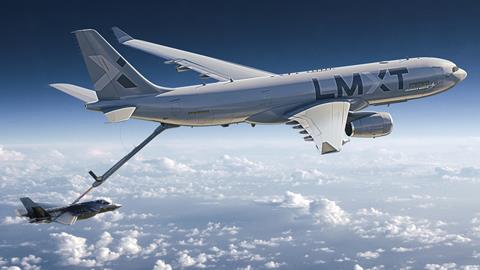 If selected, LMXT deliveries would be likely to commence in 2029/2030, following on directly from Boeing's completion of a 179-aircraft order to supply 767-based KC-46As via the USAF's KC-X procurement.
Lockheed Martin Aeronautics' LMXT programme director Larry Gallogly says initial conversion work performed in the company's converted L-10 hangar in Marietta – previously used to accommodate four C-5M strategic airlifters during modification – will take 24 months to complete per aircraft. This will subsequently be reduced to 18 months, he adds, following a two-year cycle to produce a "green" A330-200.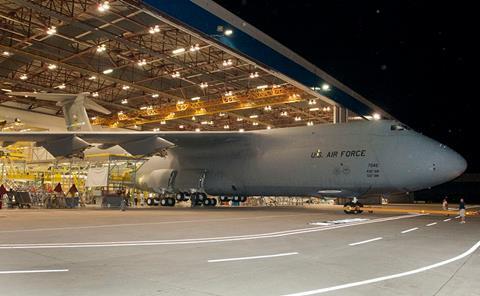 Cirium fleets data shows that Airbus's current firm order backlog for the A330-200 totals just 16 aircraft, with it now selling re-engined -800 and -900 versions to airline customers.
Half of its remaining orders involve aircraft slated for conversion to the military multi-role tanker transport (MRTT) configuration at Airbus Defence & Space's Getafe plant near Madrid, Spain. Four are on order for the French air force, with a further two each to be modified for the United Arab Emirates and the NATO Multinational MRTT Fleet (MMF).
Airbus also continues to list eight outstanding orders for Iran Air, although this deal remains stalled due to sanctions imposed against Tehran. The carrier also has a commitment to take 28 A330-900s.
Further A330 MRTT sales opportunities include an expected order for the Royal Canadian Air Force, while the NATO MMF has a further two listed as options. Airbus also will be converting three ex-Iberia-operated twinjets in Getafe for use by the Spanish air force.
Gallogly says other future sales of the A330 tanker for non-US customers will continue to involve final assembly in Toulouse and conversion activities in Spain.