Textron Aviation has secured a $90 million US Air Force (USAF) contract to provide Tunisia with eight Beechcraft T-6C Texan II turboprops.
The US Department of Defense (DoD) on 30 June said that the contract is a modification to a previous agreement with Providence, Rhode Island-headquartered Textron.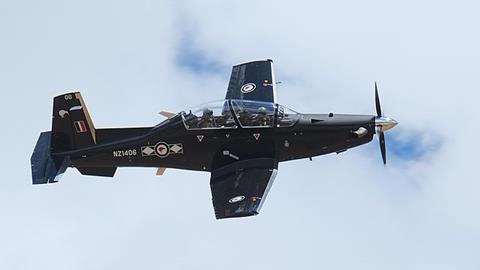 The total value of the contract is over $105 million, according to the USAF Life Cycle Management Center, which is overseeing the deal.
The deal, paid for primarily with Foreign Military Sales funding, will provide trainer aircraft, spare parts, extra engines, sustainment support and ground-based training to the North African nation's air force.
Work on the sale will be completed by Textron's defence division, Textron Aviation Defense, in Wichita, Kansas.
The DoD says it expects modifications to the eight aircraft and final transfer will be complete in September 2026.
In March, Textron and the US Africa Command reached a deal to provide four Cessna Grand Caravan EX turboprops to Tunisia.
Under that contract, ATI Engineering Services will modify those aircraft with sensors, optics and on-board monitors to perform an intelligence, surveillance and reconnaissance mission.