US flight school network ATP has ordered 55 Cessna Skyhawks for use as flight-training aircraft.
The Wichita-based airframer said on 13 October it will deliver the single-engine piston aircraft from late 2023 into 2024. ATP already operates more than 200 of the type at its 74 locations across the USA.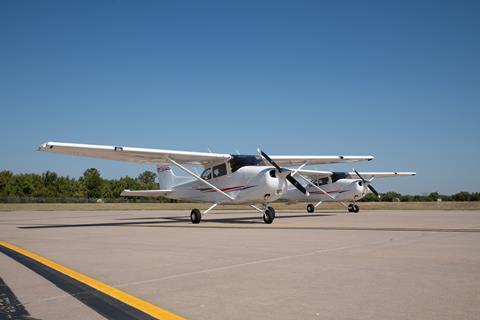 "This order announcement demonstrates our continued long-term relationship we have with ATP, in support of their flight-training needs," says Chris Crow, vice-president of Textron Aviation piston sales. Students in ATP's airline-career pilot programme will fly the aircraft.
"The stable flight characteristics, advanced avionics and proven dispatch reliability of the Cessna Skyhawk make it a dependable training platform for ATP, [which] flies 40,000 flight hours per month," Textron says.
"The Skyhawk has proven to be an integral part of the ATP fleet," says ATP's director of marketing Michael Arnold, adding that ATP's fleet logs 480,000 flight hours, and issues nearly 9,000 pilot certificates, annually. "The new order with Textron Aviation will be essential in continuing to provide students with the fastest path to gain certification and start their careers as airline pilots."
The four-seat Skyhawk is among the most-popular training aircraft worldwide. It first flew in 1955. Cessna has delivered more than 45,000 of the type.