The US Navy (USN) has declared initial operational capability (IOC) of Raytheon's Joint Precision Approach and Landing System (JPALS) aboard nuclear aircraft carriers.
The declaration means the USN's Lockheed Martin F-35Cs can use the GPS-based guidance system to land on carriers.
The USN declared the technology operational on 4 May, the US Naval Air Systems Command said on 18 May. The system was installed, integrated and flight-certificated aboard the aircraft carrier USS Carl Vinson in December 2020.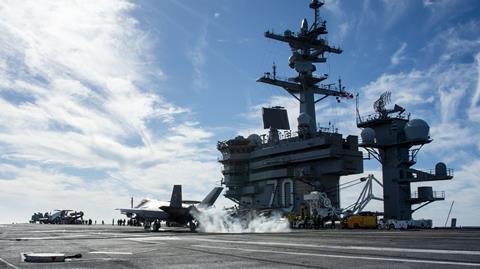 JPALS is pre-installed on all three F-35 variants and the USN's Boeing MQ-25A Stingray unmanned in-flight refuelling tanker. The system is designed to help guide aircraft onto the deck of carriers and amphibious assault ships.
The system achieved IOC for the US Marine Corps' (USMC's) F-35B short take-off and vertical landing variant in 2018 and has since been deployed on amphibious assault ships.
Raytheon claims JPALS can precisely guide aircraft onto the decks of carriers and amphibious assault ships in all weather, including in fog and heavy rain. The system can help aircraft land on ships that are pitching and rolling in rough water, up to Sea State 5 conditions, which includes 1.8m (6ft)-tall waves.
JPALS will support future operations of the USN's MQ-25A unmanned tanker aboard nuclear aircraft carriers. The MQ-25A is undergoing developmental and flight testing ahead of the service's planned IOC date of 2024.
Raytheon is also developing and testing an expeditionary version of JPALS for the US Air Force's (USAF's) F-35A. Instead of being integrated into a ship, the expeditionary version is contained in small transit cases that can fit onto two or three pallets for airlifting. The company aims to show that the system can help F-35As land at austere airstrips.
That could be useful for the USAF's Agile Combat Employment strategy, an effort to spread operations across many small airstrips. The thinking is that by dispersing aircraft the service can reduce the risk of multiple aircraft being destroyed on the ground by a cruise or ballistic missile attack from China or Russia. Many runways on small islands in the Pacific Ocean currently lack navigation systems needed to guide aircraft into land.