Brazilian airframer Embraer has partnered with US defence contractor L3Harris to offer a special "tactical tanker" version of its KC-390 military airlifter to the US Air Force (USAF).
The companies will "develop an Agile Tanker, a tactical aerial refuelling option to address the US Air Force's operational imperatives and joint-force refuelling requirements, especially for contested logistics environments", Embraer and L3Harris said on 19 September.
The move aligns with a USAF concept called Agile Combat Employment (ACE), which calls for the service to become more nimble in response to modern threats, the companies add.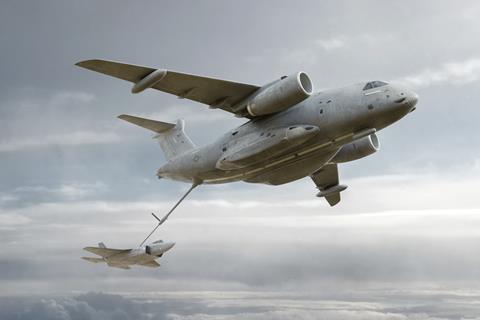 The partners are developing a prototype, L3Harris says. "It's an iterative process for the first version of the tanker, which is expected to [be] complete in late 2025, with opportunities to accelerate with government funding."
The USAF did not respond to a request for comment.
The companies are considering completing the aircraft's final assembly in the USA, though they do not provide details. L3Harris, based in Melbourne, Florida, would perform "aircraft modernisation and missionisation" at its modification centre in Waco, Texas, they say.
Completing that work in the USA would ensure the project conforms with requirements that the US government procure US-produced products.
Embraer already offers a tanker variant of its KC-390 medium-lift military aircraft, which is powered by twin wing-mounted International Aero Engines V2500s.
"Aircraft enhancements will complement the tanker's existing capabilities, which already include the ability to refuel aircraft with a variable-speed drogue, receive fuel, and to take-off and land from short and improvised runways," the companies say.
"Enhancements include the addition of advanced boom operations and mission systems to support agile basing and sustainment for operations in contested areas," they add.
The Agile Tanker will also carry communications systems compatible with the Pentagon's Joint All-Domain Command and Control concept, which aims to vastly improve communications between branches.
Embraer and L3Harris say their aircraft will be perfectly suited for the USAF's broader ACE doctrine.
ACE is a plan by the service to address threats posed by modern long-range missiles, which are increasingly able to strike bases that were beyond the range of earlier missiles.
ACE calls for the USAF to be prepared, during threats, to relocate forces as need "to predetermined, dispersed locations", says an August USAF "Doctrine Note".
"US Air Force strategic planners have stated agile combat employment will require refueling platforms optimised to support a disaggregated approach to air dominance," says L3Harris chief executive Christopher Kubasik.
Story updated on 19 September 2022 to include comments from L3Harris.