The Embraer C-390 tactical transport has attained full operational capability (FOC) in service with the Brazilian air force.
The FOC declaration was issued by Brazil's Institute of Industrial Development and Coordination, according to Embraer.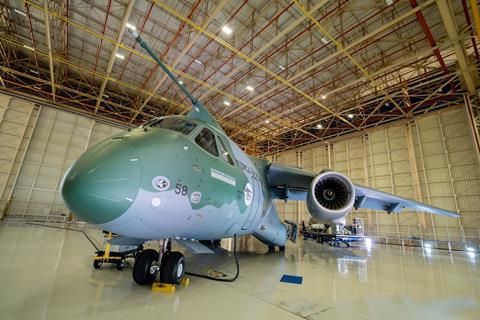 In Brazil, the institute is responsible for certifying military aircraft. The C-390s in Brazilian service can now carry out all missions for which the aircraft was designed.
At an FOC award ceremony, Embraer also commenced the delivery process for the Brazilian air force's sixth C-390 – the first aircraft in the FOC configuration. Previous examples already in service will also be updated to the FOC configuration.
The Brazilian FOC configuration will also apply to all exports of the C-390.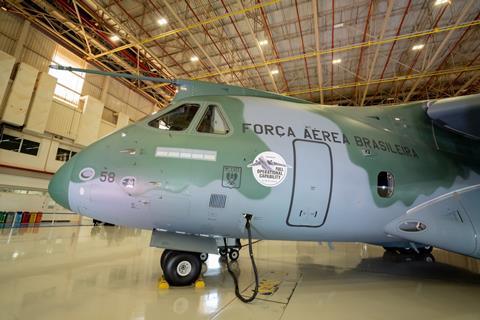 As part of the certification process, C-390 prototypes flew over 3,500h, and the equivalent of an additional 85,000h were flown using test benches and devices.
"This certificate places the C-390 in a select group of aircraft in the world," says Bosco da Costa Junior, president and chief executive of Embraer Defense and Security.
"It is a unique moment in Embraer's history. The C-390 is redefining the military airlift and refuelling space, challenging the thinking behind current and future generation platforms. Air forces around the world are focused on matching their ever-evolving operational needs with their budgets, seeking a platform that can perform multiple missions, recognising that today's choice will affect their operational capabilities tomorrow."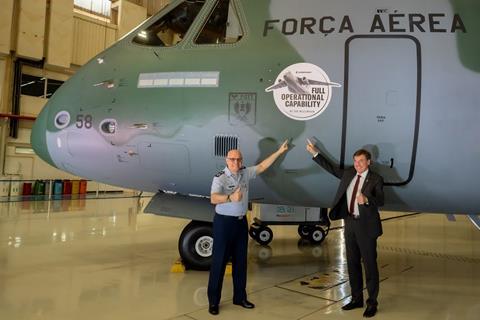 All five of Brazil's C-390s are in the KC-390 configuration, which offers an air-to-air refuelling capability via hose and drogue pods carried outboard of the jet's IAE V2500 engines. Embraer says that the aircraft enjoys an 80% availability rate, and a mission completion rate above 99%.
Embraer adds that NATO members Hungary and Portugal have ordered the type. In June 2022, the Netherlands also decided to buy five examples to replace its aged Lockheed Martin C-130Hs.