Air New Zealand plans to reduce its jet fleet to just two types by the middle of 2028, Boeing 787s and Airbus A320 family jets.
By the end of its 2027 financial year on 30 June 2028, it will have 20 787-9/10 aircraft, and 33 A320 family jets, according to its results presentation for the 2021 financial year.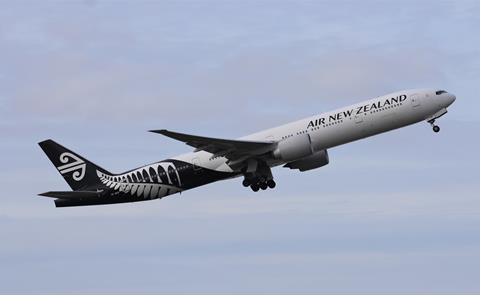 This will see 787s replace its 777-300ERs, following the retirement of its 777-200ERs in 2020.
"The 787 order contracted in May 2018 was originally intended to be a replacement fleet for the 777-200," says chief financial officer Richard Thomson.
"With that fleet permanently grounded and impaired in 2020, the wide body fleet has reduced from 29 to 21 aircraft. The 787s that will enter the fleet from the 2024 financial year will now replace the 777-300 fleet which is expected to be phased out within this decade."
Air NZ expects 787 fleet to remain at 14 examples until 2024, when it will receive two additional 787s.
Thomson adds that the existing fleet of 14 787s will require a cabin refresh beyond the airline's 2023 financial year, but the "timing and quantum" of that programme have yet to be determined.
The carrier has seven 777-300ERs in its inventory now, and will return one to its lessor, reducing its -300ER fleet to six examples until 2025, when the fleet will fall to five.
Cirium fleets data shows that Air NZ's 777-300ER fleet is relatively young, with an average age of just 9.3 years. The airline says the fleet is grounded indefinitely.
"By reducing the size of the current fleet and changing the phasing of the fleet investment program, we are now set to have an all 787 fleet for our long haul business by 2027," adds Thomson.
"Not only do these aircraft represent the best in currently available technology, but they'll also bring about significant simplicity benefits in all areas of our operations, crewing, engineering and maintenance and flight operations to name a few."
In addition, Air NZ foresees its turboprop fleet remaining largely unchanged in 2027, with 29 ATR72-600s, up from 28 now. Its fleet of De Havilland Canada Q300s will remain stable at 23 aircraft.