Air New Zealand has outlined plans to eliminate carbon emissions on its short-haul domestic network, where it now operates a fleet of turboprops.
In a Product Requirement Document (PRD), the carrier calls on the aerospace sector to issue proposals for zero emission/'novel propulsion' aircraft. The term 'novel propulsion,' contends Air NZ, captures a range of new technologies such as hydrogen/battery electric, hydrogen combustion, or hybrid.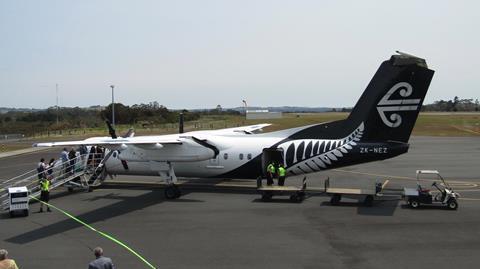 Air NZ's turboprop fleet comprises 23 De Havilland Dash-8 Q300s with 50 seats, and 29 ATR 72-500/600s with 68 seats. Air NZ also operated 19-seat Beechcraft 1900Ds from 2001 to 2016.
Air NZ feels that its domestic network is ideally suited for decarbonisation, as it is characterised by short routes that support early aircraft demonstrations. Moreover, the country's largely renewable energy grid allows for cost effective infrastructure.
It outlines three phases of adoption. The early adoption stage from 2023-25 would see work conducted with electric or hybrid/electric aircraft with 1-9 seats. It notes that aircraft are in development that meet these criteria, and that use cases could involve freight carriage and training.
The supplementary stage from 2026-2030 foresees novel propulsion aircraft of 10-50 seats, with the incoming aircraft supplementing existing routes and entering new routes.
"Concepts in this option are targeted at medium-sized aircraft or retrofit solutions that are well advanced and likely be available for commercial entry from 2025," says Air NZ.
Finally, a replacement stage from 2031-2035 would see zero emissions aircraft with 50+ seats replace existing turboprops.
"The ideal candidate aircraft will be a drop in replacement for the Q300 for seamless integration into the existing Air New Zealand turboprop network, which may include retrofit of the existing aircraft," says Air NZ.
The PRD notes that the Q300s will be phased out from the end of the decade.
"The ATR will also come up for retirement from the mid-2030s and replacement aircraft will most likely be required to have significant emission reductions at this stage, preferably zero," says Air NZ.
The airline also feels it has much to offer industry, including operator data, aircraft for retrofitting, and research & development funding.
In September, Air NZ and Airbus entered a memorandum of understanding to study the feasbility of hydrogen-powered aircraft in New Zealand.