Air New Zealand has suspended its cash burn forecast citing "ongoing uncertainty" around New Zealand's coronavirus situation, as it draws down further from a government loan facility.
In comments made during an annual shareholders' meeting, Air New Zealand chairman Therese Walsh says the airline has "incrementally drawn down" an additional NZ$105 million ($75.2 million) from the loan facility, known as the Crown Standby Facility, since August.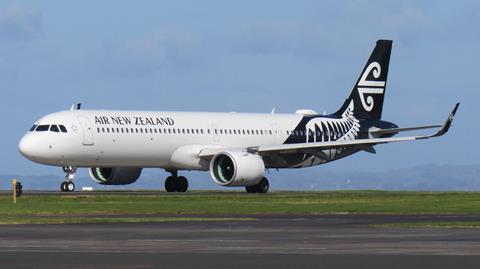 This means that Air New Zealand has drawn down around NZ$455 million from the NZ$1.5 billion facility to date.
Walsh adds that the airline expects to draw further from the facility in the coming months, especially if there are "no significant changes" to domestic and international travel restrictions.
She notes that the airline's current operating level — at just 405 of its domestic network — is "insufficient to cover near-term cash requirements".
By December, the drawdown figure could increase to NZ$600-650 million, and go up further to NZ$900 million by end-February 2022.
Walsh says the funds drawn will initially pay for the delivery of two new narrowbodies and one turboprop "expected to arrive in the next few weeks".
"The delivery of these aircraft had been delayed as part of negotiations to push out capital expenditure at the start of the Covid-19 pandemic," she adds.
Part of the funds will also toward repaying deferred tax payments to the New Zealand government. Walsh discloses that the airline has to pay close to NZ$300 million, and that it is "not possible to extend this repayment".
The carrier will also suspend its cash burn guidance, and will continue to shelve its earnings forecast for the financial year ending 30 June 2022.
Air New Zealand in September said it was burning through between NZ$25 and NZ$35 million of cash per month in the domestic market. The closure of quarantine-free travel arrangements with neighbouring Australia upped its monthly cash burn by another NZ$20-25 million.
New Zealand, which had largely kept the coronavirus pandemic under control for most of 2020, has recently been hit by a surge of infections caused by the more contagious Delta variant.
International borders remain tightly shut, even as New Zealand abandons a 'Zero-Covid' strategy and pushes for higher vaccination rates.
On the domestic front, recent lockdowns have thwarted the carrier's recovery momentum, notes Walsh.
"Prior to the latest outbreak and lockdown this August, domestic capacity had been tracking in excess of 90% of pre-Covid levels," she adds.
Domestic flying has unsurprisingly been a "major contributor" to Air New Zealand's operating revenues for the past year, though Walsh notes that there still remains a "significant gap" without international travel.
The carrier's cargo business has also proven to be another "crucial source" of earnings during the pandemic, with cargo revenue for 2021 increasing 71% year on year to nearly NZ$770 million.