AirAsia Aviation has confirmed plans to lease 15 Airbus A321neos – its first major fleet expansion since the start of the Covid-19 pandemic – as the group looks to launch two more units in Southeast Asia.
AirAsia Aviation president Bo Lingam says deliveries are likely to commence by end-2023 earliest, and will be earmarked for the group's units in the region, which comprises Malaysia, Indonesia, the Philippines, as well as Thailand.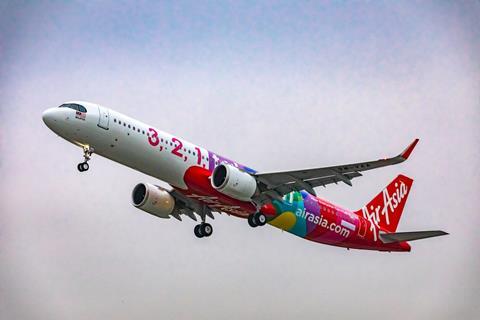 He was speaking to reporters on the sidelines of a Capital A event on 8 February in Kuala Lumpur. Capital A is the parent company of AirAsia Aviation.
His comments come a day after Capital A chief Tony Fernandes, who was quoted in a Reuters report, said that the airline group is looking to lease 15 additional jets to meet travel demand from China's reopening.
Since Beijing scrapped most of its 'zero-Covid' restrictions at the start of the year, AirAsia Aviation has restored about 40% of pre-pandemic capacity into China. Lingam says that the group hopes to return to full capacity for China by the July-September quarter of this year.
He adds that the leased jets will provide some short-term capacity boost to the group, as it awaits deliveries of its A321neos. Cirium fleets data shows the group to have over 300 A321neos on order.
Lingam also notes that AirAsia Aviation "did not grow our fleet" during the two years or so of the pandemic but instead retired or returned several aircraft as their leases ended.
The airline group is in the process of bringing its parked aircraft back to service: it has 150 jets returned to operations across its Southeast Asia units, out of over 200 aircraft. AirAsia Aviation expects to put all its aircraft back in service by August.
NEW AIRLINE UNITS PLANNED
Separately, Fernandes, who was also at the Capital A event on 8 February, teased plans to launch two more AirAsia units in Southeast Asia.
His comments come as AirAsia Aviation is in the process of setting up a unit in Cambodia – its first new airline unit in about a decade. The carrier expects to launch operations by the end of the year, making it the group's fifth unit.
Neither Fernandes nor Lingam would disclose where the two units would be based. Currently, the remaining Southeast Asian nations without an AirAsia unit are Vietnam, Myanmar, Laos, Brunei and Singapore.
The launch of the two new units - which Lingam expects will only happen late-2024 - will "complete our Asean (Association of Southeast Asian Nations) dream", says Fernandes.