AirAsia X is in "varying degrees of engagement" with lessors to add at least three more Airbus A330s to its fleet, amid optimism about "ever-thriving" travel demand.
The additional widebodies will take its total fleet to 17 A330s by April 2024, according to a presentation issued alongside the airline's quarterly financial results.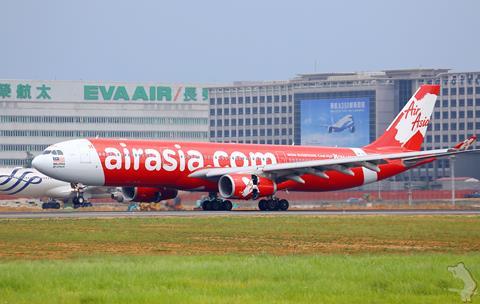 AirAsia X currently has seven operational A330s, with a further seven yet to return to service.
The disclosure is on top of plans outlined in November, when it released earnings for the July-September quarter. It said then that it targets operating 13 aircraft by mid-2023, and hinted it was open to leasing additional aircraft to boost its fleet.
The airline's latest fleet plan sees it operating 17 A330s from 2024 to 2026, when it will start taking delivery of its first A330neo. A year later, AirAsia X will receive its first A321XLR.
Airline chief Benyamin Ismail previously told FlightGlobal that the airline remains committed to taking delivery of its A330neos and A321XLRs, despite slashing its order book as part of restructuring efforts.
The optimistic fleet ramp-up comes as the airline posts its second consecutive quarterly profit, benefiting from the year-end peak travel season, coupled with what it calls an "upward fare trend".
For the three months to 31 December 2022, the Malaysia-based carrier reported a net profit of close to MYR150 million ($33.8 million), a five-fold jump quarter on quarter.
AirAsia X also states that this was its best financial results in nearly two years of the coronavirus pandemic, which forced the carrier to suspend almost all of its services.
Revenue for the period was up three-fold compared to the previous quarter, at MYR339 million. The airline carried close to 338,000 passengers, four times the number carried in the previous quarter. However, the figure is well below the 1.6 million passengers it carried in the October-December quarter in pre-pandemic 2019.
Owing to a change in its financial year, the carrier did not provide figures for a previous corresponding period in 2021.
The average base fare rose 38% quarter on quarter, helping provide a boost to the airline's earnings as demand outstrips supply.
Says Ismail: "The company is optimistic of the upward fare trend in the near term as demand for international air travel remains high. While we expect this to somewhat rationalise, we do not foresee the fare trend dropping beyond pre-pandemic levels."
AirAsia X will continue to grow its network in 2023, including resuming more flights into Mainland China, following the reopening of borders, adds Ismail.
Thailand-based associate Thai AirAsia X was also in the black, posting a MYR357 million net profit on the back of unrealised foreign exchange gains.
Says AirAsia X chairman Mahmood Fawzy: "With the standstill brought upon by the pandemic well behind us, the AirAsia X Group is on a strong growth trajectory to support significant pent-up demand for affordable mid-range travel. The group's restructuring plan is progressing well as planned as it continues to provide scheduled passenger services where there is greatest demand."