Asiana Airlines is to resume operating its sole Boeing 747-400 – Asia-Pacific's last in-service example – as it ups capacity on its China network.
The airline in a 26 October notice says the jumbo jet will operate flights from Seoul Incheon to Changchun, a city in northeastern China. Asiana will from 27 October add one more weekly flight, operated by Airbus A330 aircraft, while the existing flight will be upgauged to a 747.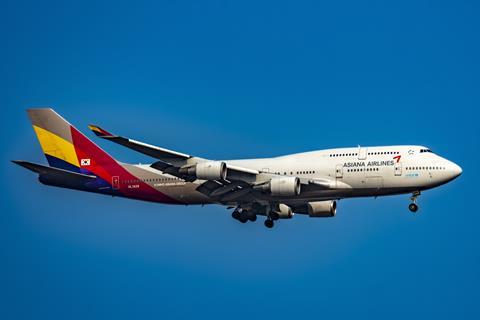 The announcement is part of a series of flight resumptions to Mainland China, which remains largely shut off to international travel. Asiana says it is also restarting once-weekly flights to Hangzhou and Shenzhen.
According to Cirium fleets data, Asiana's sole passenger 747-400 (HL7428, MSN28552) was delivered to Asiana in 1999 on lease from GECAS. The Star Alliance carrier would in 2005 own the aircraft. It is powered by four GE Aviation CF6 turbofans, and is configured to seat 398 passengers in three classes.
In March 2020, as the coronavirus pandemic spread worldwide, Asiana parked the aircraft in Seoul, before briefly returning it to service in the second half of 2020. By May this year, the jumbo was put in storage again, before rejoining the fleet in July.
However, the aircraft's utilisation remains low: flight tracking data for the past seven days shows it only operated a single flight on 25 October. Asiana also did not disclose plans to deploy the airraft on other sectors.
Some Asia-Pacific operators of the 747-400 – including Air India, Qantas and Thai Airways International – retired the type at the height of the pandemic, when passenger travel demand plummeted amid border closures.
Globally, Cirium fleets data shows that there are less than 20 passenger 747-400s still in service. German carrier Lufthansa is the only other prolific operator of the type, with eight examples still flying.