Canada's Porter Airlines has ordered 30 Embraer 195-E2s and taken options to acquire a further 50 of the jets, while also announcing plans to expand to Toronto Pearson airport and to southern warm-weather destinations.
The news marks a major fleet and network shift for Porter, an all-turboprop operator that has never served Pearson and that previously planned to acquire Airbus A220s, not E195-E2s.
Porter intends to place its E195-E2s into service in the second half of 2022.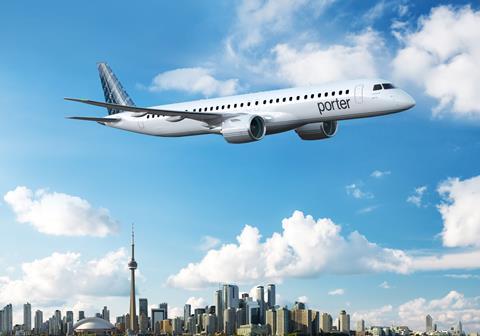 Powered by Pratt & Whitney PW1900G turbofans, E195-E2s can carry 120-146 passengers and have 2,600nm (4,815km) range.
Porter will not operate the jets from its hub at Billy Bishop Toronto City airport, where the airline is also based. But Porter insists it will continue flying its De Havilland Canada Dash 8-400s from Billy Bishop.
Since beginning operations in 2006, Porter has operated only Dash 8-400s, of which it has 29, according to Cirium. It primarily operated those aircraft on regional Canadian routes from Billy Bishop, including to some US destinations, but only as far south as north Florida. The carrier halted operations in March 2020 amid the Covid-19 pandemic and has pushed back its expected restart several times, most-recently until 8 September.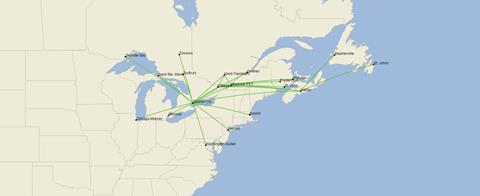 "This is a defining moment in Porter's history," Porter chief executive Michael Deluce says. "Today, we lay the foundation for a new and further-reaching service for our customers."
He cites the E195-E2's "spacious cabin, quiet operations and no middle seats".
"Porter intends to deploy the E195-E2s to popular business and leisure destinations throughout Canada, the United States, Mexico and the Caribbean, from Ottawa, Montreal, Halifax and Toronto Pearson International airport," the airline says.
Porter was among early customers to sign up to purchase A220s, and still holds letters of intent to acquire 30 A220-100s, according to Cirium. Those jets can carry 100-135 passengers and have 3,450nm of range.
But, Porter long said its A220 deal hinged on the city of Toronto lifting noise and aircraft size restrictions at Billy Bishop – changes necessary for Porter to operate A220s at the smaller airfield.
Porter did not respond to questions about its orders, including about the status of its A220 commitments. Airbus manufacturers A220s in Canada.
Porter has not disclosed how many seats it intends to install on its E195-E2s. It plans to release new planned routes in 2022. Moving into Toronto Pearson will see Porter competing more directly against major carriers like Air Canada and WestJet.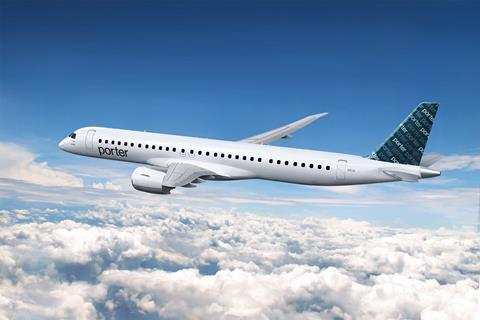 "The E195-E2's range allows for the creation of a continental route network," Porter says. "Potential markets reach coast to coast in Canada and the United States, including US sun destinations, plus Mexico and the Caribbean."
Porter affiliate Porter Aircraft Leasing will acquire the jets. The company has the option to convert the orders to the smaller E190-E2, Porter says.
"This provides opportunities to introduce non-stop service in markets where connecting flights are often the only option today. It also enables higher-frequency service for routes with greater demand," the airline adds.
Deluce adds: "Now is the right time to make this investment, as the pandemic resets the aviation landscape. Adding a diverse selection of popular business and leisure destinations to our network means that we are better positioned to serve the needs of many more passengers".
The company says its operation at Billy Bishop will "remain core to its business", adding that Porter will retain "high-frequency service" using Dash 8-400s from Billy Bishop.
"The airport is essential to the airline's immediate plans for re-establishing flights and developing future routes," Porter says of Billy Bishop. "The E2s will not operate at this airport."
"Our corporate headquarters at Billy Bishop is being maintained and we will continue serving the same network of regional markets from downtown Toronto," says Deluce. "We are moving beyond this existing footprint to welcome more travellers across North America."
Embraer previously disclosed Porter's 30-aircraft order but had not named the customer. The deal, including options, is worth $5.8 billion at list prices and will make Porter the launch customer for the E195-E2 for North America, Embraer says.