South African carrier Airlink has unveiled a new livery to mark its move to standalone operations.
It comes after the airline ended its long-standing franchise agreement with South African Airways (SAA) earlier this year. Last month the airline formally changed its name from SA Airlink to Airlink and began operating under its own 4Z designator code.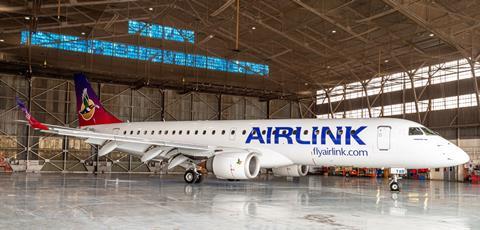 The airline says the new look. which features an African Sunbird set against a sunrise and dawn sky, signifies its new strategy as an independent carrier. Notably it removes any brand association with its former partner SAA.
Airlink chief executive Rodger Foster says: "We have flown that particular nest and we are inviting our loyal and new customers to fly with us as Airlink expands its network, connecting and re-connecting people, communities, businesses, goods and services with markets throughout southern Africa and beyond."
The new livery will debut on an Embraer 190 regional jet on commercial services in early December. Airlink says the new paint scheme will be rolled out across the fleet in the coming months in line with scheduled maintenance.
The airline, which had been an SAA franchise partner for 23 years, stepped in to begin operations in its own right in February after SAA dropped a number of domestic and regional routes as part of its restructuring.
Airlink recently launched daily services on South Africa's busiest routes – flights connecting Johannesburg to Cape Town and Durban, in addition to Port Elizabeth and East London links to Johannesburg. Its international network includes new routes from Johannesburg to Maputo in Mozambique and Windhoek in Namibia.
Rival South African carrier Comair, which has been in formal restructuring, aims to restore flights in December as both a British Airways franchise carrier and under the budget Kulula brand. Separately South African start-up Lift will launch flights on two domestic routes from 10 December, including the Johannesburg-Cape Town routing.