South African carrier Airlink has failed to convince the country's Supreme Court of Appeal that it is owed R510 million ($33 million) in ticket funds held by South African Airways.
The court has upheld a Gauteng high court decision rejecting Airlink's claim to the ticket revenues collected by SAA on its behalf, following SAA's entering business rescue in late 2019.
"While Airlink fully respects [the court order] dismissing the case, it is nonetheless disappointing and demonstrates that the law is not always just," says Airlink, following the 30 November judgement.
Airlink had a long-standing alliance with SAA including a commercial agreement under which passengers could book Airlink flights through SAA's reservations systems and Airlink flights carried the SAA designator code 'SA'. Airlink was granted this access for a basic fee plus a royalty of 1% flown revenues.
SAA would then periodically remit to Airlink the revenues received for the Airlink ticket sales, less commissions, fees and taxes.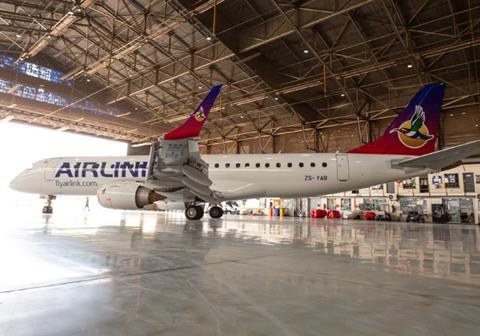 The dispute centred on revenues collected from November 2019 up to the point when SAA entered business rescue on 5 December 2019.
At the time business rescue commenced, SAA's rescue practitioner had argued that the revenues amounted to a pre-commencement debt to Airlink and therefore could not be paid.
Airlink had put forward its case on the premise that SAA was acting as its agent when it sold Airlink tickets, and that the proceeds of the sales belonged to Airlink. The revenues were not a debt, Airlink claimed, but rather property being held unlawfully by SAA.
"This contention is unsustainable," says the Supreme Court judgement, pointing out that the two airlines' commercial agreement "excluded agency" in their relationship.
"Nothing in the relationship between SAA and Airlink resembled agency," it adds. "SAA never acted as a 'representative' of Airlink."
Along with the agency argument, Airlink had relied on two other grounds for its appeal.
It claimed that, even if the revenues were a debt, this debt only arose after commencement of business rescue and could not be compromised. Airlink also argued that SAA could not use, as a defence, a moratorium preventing legal proceedings against a company in business rescue.
But the court rejected both arguments, noting that its application would have been dismissed on the moratorium issue alone, and describing its claim that the revenues were a post-commencement debt as "misconceived".
The quantity of revenues was disputed – Airlink puts the total at R510 million while an SAA reconciliation statement gave a figure of just over R430 million – but this became largely irrelevant.
"It has always been Airlink's firm view that the funds collected by SAA, on Airlink's behalf, was never for SAA to keep or spend," says Airlink, which terminated its relationship with SAA in June this year.
Airlink says it will "study the judgement and consider its options", although it has not indicated the nature of any options given that the ruling has come from the Supreme Court.