Aviators in Saudi Arabia's army have renewed a contract with an American firm to maintain their aircraft.
The US Department of Defense said in a contract announcement on 29 July that $56 million in Foreign Military Sales (FMS) funds have been awarded to support sustainment in the Royal Saudi Land Forces' Aviation Command.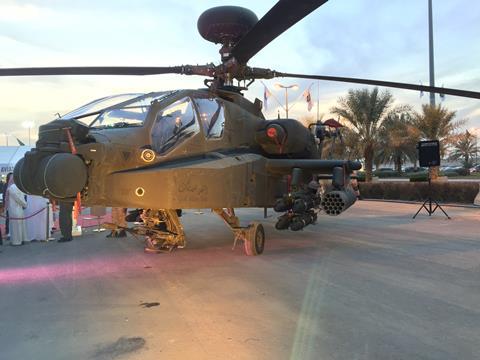 The funds, part of a modification to an existing contract, will be paid to Fort Worth-based DynCorp International, a military contractor that provides services including flight operations support, aircraft maintenance and operator training. The US Army will oversee the contract.
The $56 million comes from Saudi Arabia itself, rather than the USA's defence budget. However, the funds are being handled in escrow by the US Defense Security Cooperation Agency (DSCA), which manages the sale of military equipment and services by American firms to foreign customers.
The US State Department, which has regulatory approval over such deals, tells FlightGlobal that it is standard practice for foreign governments to transfer funds to a DSCA escrow account, after which the agency procures the intended hardware or services through the US military's procurement system, on behalf of the purchaser.
The original deal with DynCorp to maintain aircraft in the Persian Gulf nation was awarded in 2016, with a total potential value of over $500 million. Work on the latest portion of the contract is expected to be completed in 2024.
Saudi Arabia has the eighth largest fleet of combat aircraft in the world, according to the 2022 FlightGlobal World Air Forces directory, which lists 364 airframes. That figure does not include tankers or special mission aircraft.
The Royal Saudi Land Forces' fleet consists entirely of rotary-wing assets, including Sikorsky UH-60 Black Hawks, Boeing AH-64 Apache attack helicopters, Boeing CH-47 Chinook heavy lifters, and the Bell OH-58 Kiowa reconnaissance aircraft.
Correction: Story changed on 2 August to note that the aircraft maintenance contract was not funded by a US military grant, but rather with Saudi national funds held in escrow and administered by the US Defense Department on behalf of the Saudi government.