Bell is in early discussions with Seoul about potential industrial collaboration on the AH-1Z Viper attack helicopter should the type be selected for a South Korean requirement for 24 rotorcraft.
Bell's proposal could include technology transfer, local production, and local integration work, says Victor Chin, who handles defence sales for the company in the Asia-Pacific.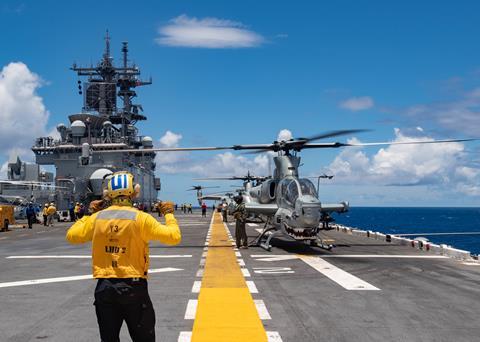 He stresses, however, that discussions with South Korea's Defense Acquisition Program Administration (DAPA) are still at a very early stage and nothing has been determined.
Bell's interest in promoting the AH-1Z relates to a South Korean requirement for 24 attack helicopters to be operated by the Republic of Korea Marine Corps from the country's Dokdo-class amphibious assault ships.
Bell has previously advanced the AH-1Z for the requirement, but in 2021 the DAPA decided to develop a new attack helicopter for the marines based on a utility type, the Korea Aerospace Industries KUH-1 Surion.
Media reports from South Korea suggest that the country's marines are deeply displeased with the plan to convert a large, lumbering transport into an attack helicopter. The Surion's fuselage size could also be a problem aboard a ship, where space is limited.
South Korea's new president, Yoon Suk-yeol, has also reportedly said that the marines will get "weapons with proven battle capabilities".
Nonetheless, in December 2021 the DAPA earmarked W450 million ($327 million) to fund the "Amphibious Attack Helicopter Project" through domestic research and development. In April 2021, it had pegged the entire cost of the programme, from development through to fielding, at W1.6 trillion.
Bell, for its part, promotes the strong marinisation credentials of the AH-1Z, as well as its years of service with the US Marine Corps.
Chin notes that in addition to the type's shipboard capabilities, a South Korean AH-1Z buy would also enhance interoperability between South Korean and US marines.
"We want to see what their appetite is and what they can do," adds Chin.