Swiss maintenance provider SR Technics has spun out its component support business into a separate entity under new branding, as part of a wider company restructuring.
The Zurich-based MRO provider says the new operation, branded "Strade powered by SR Technics", will concentrate on rotables sales, loan, leasing and exchange – indicating that component repairs will be discontinued.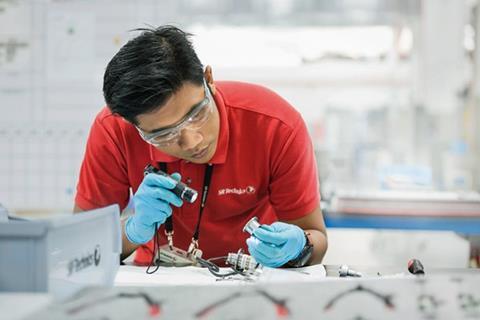 It adds: "The new brand will operate as an independent unit inside the group [and] benefit from SR Technics' legacy in aircraft know-how and product reliability."
In July 2020, SR Technics disclosed a plan to concentrate its activity on engine MRO and line maintenance in Switzerland. The company's hour-based component MRO programme was to be "progressively reduced" under the plan, while services would concentrate on "transactional" activities. Several business activities have since been divested.
Describing the new component business as having a "digitalised operating model", Strade general manager Stephen Fer states: "We respond to a clear market demand for a more flexible and dynamic approach to component support."
Strade's website indicates that its inventory spans more than 25,000 hydraulic, pneumatic and electric components for Airbus, Boeing and Embraer aircraft. The parts are stored in warehouses in London, Miami and Kuala Lumpur.
The "high-quality components in top condition" include Boeing 787 rotables for sale, the company notes.
SR Technics' website shows that its operation includes component repair shops in Zurich and near Malaysian capital Kuala Lumpur, and a wheel-and-brake shop in Spanish capital Madrid. Cirium understands, however, that component repairs in Zurich had been terminated before last year's restructuring announcement.
Chief executive Jean-Marc Lenz states: "With the launch of the new brand, SR Technics shows its resilience and innovative spirit in challenging times for our industry. Strade leverages the strength of our company with its entrepreneurial and agile setup."
Cirium has approached SR Technics with a request for further details of the Strade operation.