Delta Air Lines plans to hold back on restoring its flight network to China as it assesses demand following that country's lifting of all Covid-19-related travel restrictions earlier this month.
Ed Bastian, chief executive of the Atlanta-based airline, said on 13 January that the carrier's international recovery is "well underway". But while Delta is seeing "robust bookings" for the coming months on its transatlantic routes, Bastian adds the company is wary about overstretching itself across the Pacific.
"We are really excited about summer peak season, we think it's going to be a record-breaker," he says. "What's left to reopen is China. We're not going to get ahead of ourselves, we will be mindful to see what demand warrants."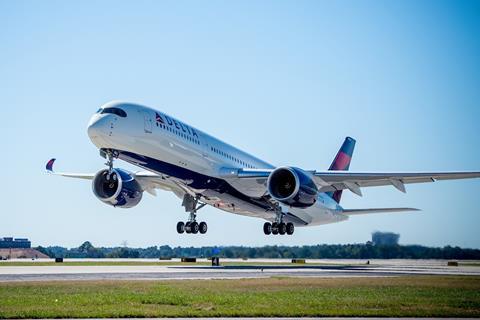 Prior to the pandemic, the airline operated flights to China from Atlanta, Detroit, Seattle and Los Angeles, according to Cirium data.
China lifted all coronavirus-related travel restrictions on 8 January after almost three years. That opening follows a broader North Asia reopening in late 2022, which saw neighbouring North Asian countries such as Japan, South Korea and Taiwan drop their restrictions.
Almost immediately, Chinese carriers announced they would expand their schedules to North America to take advantage of what they expect will be pent-up demand for overseas travel. On 4 January, Air China and Hainan Airlines submitted new schedules to the US Department of Transportation (DOT) with their expanded route intentions.
US airlines have not been as gung-ho about restoring China flights. Currently only four airlines – Air China, China Eastern Airlines, China Southern Airlines and Xiamen Airlines – operate nonstop flights between China and the USA, according to Cirium data.
United Airlines operates four-times-weekly service between San Francisco and Shanghai with a stopover in Seoul. Prior to the pandemic, United served Beijing, Shanghai and Chengdu with numerous weekly connections from its hubs at San Francisco, Los Angeles, Washington DC, Chicago and Newark.
Delta's Bastian says the company's transatlantic network is "108% restored", adding that in Asia-Pacific, "absent of China, we are more than rebuilt in Australia, Korea [and] 75% rebuilt in Japan". In Latin America, the company sees "very positive early results" after its expanded partnership with Chile's LATAM Airlines Group took effect.
"China is the big question mark, we just don't know what's going to go on there with demand," Bastian adds.
Most flights between China and North America were suspended in early 2020 when Covid-19 tore around the world, creating a precipitous drop in demand for long-haul international travel. For most of the past three years, Beijing had a "zero-Covid" policy in place, characterised by mass lockdowns and endless rounds of testing for Covid-19 – carrying a devastating economic cost. The government now contends that the Omicron variant of Covid-19 is less harmful than previous variants.